Saturday, September 23rd, 2006
Celina buried early by Kenton passing
By Gary R. Rasberry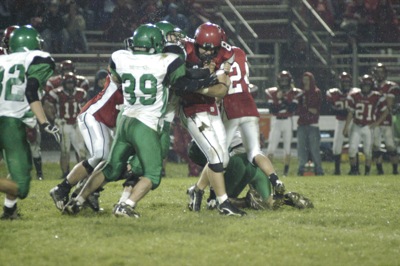 KENTON - Celina became the latest victim of the aerial assault of Dailyn Campbell as the Kenton Wildcats ran up 36 straight points to open the game en route to a 43-14 win at Robinson Field.
The Wildcats go to 4-1 overall and 4-0 in the Western Buckeye League as the Bulldogs complete the first half of the season 1-4 overall and 1-3 in league play.
"I'd say we got beat by a much more talented football team," said Celina coach Jerry Harris. "Football comes down to blocking and tackling. Obviously, they do that a heckuva lot better than we do."
Campbell began throwing as soon as the Wildcats took possession of the ball on the Celina 33. After two incomplete passes, Campbell found Corey Manns for a 33-yard scoring strike just 1:13 into the game and the Kenton QB added a two-point scoring run to put the Wildcats up 8-0.
After the Bulldogs gave up the ball on a punt after a seven-play drive, Campbell began to click even more with passing and adding a little running. After starting on his own 28, Campbell moved Kenton to the Celina 35, where he connected with Manns again for a score to make it 14-0 after the blocked PAT.
Manns, who has an 8 p.m. curfew due to his arrest in the deer decoy case from earlier this year, left in the first quarter making three catches for 82 yards, but Campbell began to call the numbers of his other favorites.
Jesse Howard got the next call, snagging a screen pass from Campbell and zig-zagging his way to a touchdown on a 49-yard reception to make it 22-0 after the two-point conversion. Howard then moved to quarterback for a few plays, running 34 yards on the next series to complete a 14-play drive spanning two quarters to make it 30-0.
"We had some big plays early in the game," said Kenton coach Mike Mauk. "I thought our guys did what they wanted to do early, but I thought Celina did a good job adjusting and came out and played a pretty good second half."
In the meantime, Celina began to move the ball with a combination of running and passing. Late in the first quarter, Celina was within 10 yards of the end zone but on a fourth-and-four, Bulldogs quarterback Derek Gagle scrambled but could not complete the pass, giving the ball to the Wildcats.
After Kenton went up 36-0 to start the third, the Bulldogs got on the board. Gagle connected with Stu Amstutz, who proceeded to bulldoze his way into the end zone on a 30-yard play to make it 36-8 after Gagle ran in the two-point conversion.
Celina's best drive of the night started with 1:19 left in the third quarter at its own 30. Midway through the drive, Gagle came up hobbling after a five-yard run and left the game before going to the hospital with what appeared to be an ankle injury. Scott Felver took over and guided the Bulldogs to the Kenton 1, taking it in himself for the second Celina score. Kenton concluded its night with a Howard five-yard run with 68 seconds left.
"I know Celina is going to be a much-improved team as the year continues on," said Mauk. "... Their kids played hard."
The Bulldogs were able to move the ball, rushing for 197 yards in the game. Josh Hedge carried 11 times for 68 yards while Felver had 57 yards on 16 totes.
"Those things are difficult to gauge when you're down that far and the other team lets up," said Harris. "I don't take any merit one way or another.
"Write it anyway you want to, we're not a very good football team and Kenton is. So take it from there," added Harris.
Gagle was 9-of-22 passing for 126 yards. Zach Sams had three catches for 69 yards with Amstutz totaling 44 yards on three catches.
Campbell was 24-of-46 for 339 yards and four touchdowns and added 60 yards rushing. Howard snagged six passes for 110 yards and one score and carried the ball four times for 98 yards and two more scores. Sean Kleinfelter added six catches for 74 yards.
Celina returns to action Friday with a road trip to Kraft Stadium to face the winless Elida Bulldogs while Kenton travels to Brown Stadium in Defiance to face Jerry Buti's Bulldogs.