Tuesday, October 24th, 2006
Familiar foe bounces Celina from tourney
By Gary R. Rasberry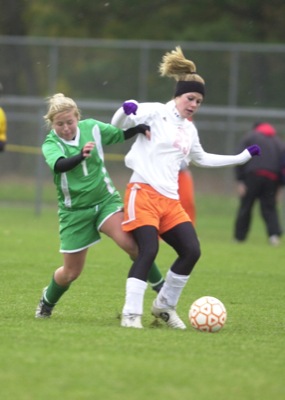 FINDLAY - After playing them earlier in the season, the Celina girls soccer team knew who from Elida they had to contain in order to advance in the Division I sectional.
The problem was, they knew who, but couldn't figure out how.
Kelly Warris, whose two goals gave Celina its only league loss this season, scored both goals for Elida to eliminate Celina from tournament play with a 2-0 loss at Graham Soccer Stadium in Findlay on Monday.
Elida (15-1-2) faces the winner of Monday's second match between Findlay and Shawnee on Wednesday at 7 p.m. in Findlay. Celina ends another stellar season at 14-3-1.
In addition to Warris' offensive heroics, Elida executed a solid defensive attack that allowed Celina just four shots on goal, just one in the second half.
"I've been preaching defense all year long," said Elida coach Matt Albright. "When I took over, one of the things I knew I was different from Les (former Elida coach Les Boothby) was my defensive mind. I really feel defense wins games, especially in tournament, and I have one of the best defensive sweepers in the WBL (Western Buckeye League) with Rosie Parris. It's hard to beat her."
Celina went with Allison Braun in goal instead of Laura Kuhn and Elida got on the board with just over two minutes gone in the match. Warris got a pass from Marianne Conrad 30 yards out and charged in. Celina tried to get a defender back, but the player slipped, allowing Warris to put the ball past Braun with 37:42 left in the half for a 1-0 Elida lead.
"That opens up our game," said Albright. "When we can score that early, we can start moving personnel around to create a little more offense where I normally don't have that. I talked to them about it. I told them if we have that score early, you can see us pushing a lot harder."
"Coming out scoring early like that took the momentum out of us," said Celina coach Cal Freeman. "We came back and played solid the rest of the first half. This is the second time we played them. Elida has a great team. You can't take anything away from Elida."
As a result of the early score, Elida began to take some time off the clock while passing a lot more and keeping the ball away from Celina.
Celina had several solid chances at scoring, one by Courtney McKirnan with 36:40 left in the half and the other by Eryn Langenkamp with 21:50 left, but Elida keeper Ashley Jones was able to make the stops.
Looking for a way to slow down Elida, Freeman sent Kuhn to play goal to start the second half and put Braun back out at midfield. Celina spent a little more time on the attack in the second half, but could not get close enough to shoot often enough, resulting in just one shot on goal in the final 40 minutes.
"We tried to mark up and played a different defensive scheme in the first half," said Freeman. "Unfortunately, that hurt our offense. Second half, we decided to go back to what we were playing. It was one of those things where we had a little better offensive attack, but we still came up short."
Elida tried to find a way to get the spirit-breaking goal in the second half and finally found it when Allison Peters found Warris open just outside the box. Warris moved the ball around a defender and put it past Kuhn with 18:43 left to go to make it 2-0.
"When you score a second goal in a tournament game like this, everything falls on them," said Albright. "You can sit back. You can play longball if you want to, kickball in the ends, you can bring an extra person back to play in the middle to take the middle game away. You have a lot of openings you normally don't have."
Celina had a chance for a consolation goal in the final 6 1/2 minutes as Kirsten Samples was in range to put one in, but kicked the ball wide and off the mark.
"Elida is a solid team," said Freeman. "They have Warris up front and Parris in the back. Two great players. Obviously first team All-WBL. They showed it tonight. They played well and we were just one step behind.
"I'm proud of my girls," continued Freeman. "We had a fantastic season. Elida played better and deserved to win."