Thursday, November 2nd, 2006
A gift from home
Mercer County young people join with senior citizens to pack treats for troops
By Margie Wuebker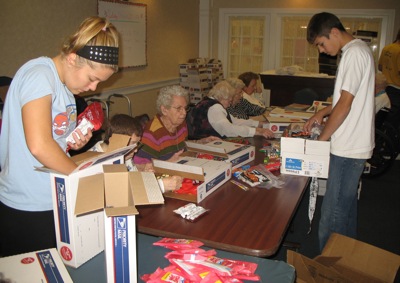 ST. HENRY - From ramen noodles to moisturizing lotion, area residents serving in the military overseas will be receiving gifts from home thanks to an intergenerational effort.
The activity room at The Gardens looked like a store last weekend as residents and teenage volunteers worked together packing the items for shipment.
Activities Director Tess Mescher first envisioned sending greeting cards and notes. That is, until she spoke with area resident Nancy Hart, whose son is stationed in Iraq, and visited a Web site listing items military stationed overseas appreciate.
"I decided those men and women needed a gift from home," she says. "A card is nice, but beef jerky, sports magazines, gum and candy are even better."
Mescher contacted three area schools - Marion, St. Henry and Fort Recovery - to enlist assistance. The first two jumped on the bandwagon immediately, with Fort Recovery offering to collect donations in the spring.
The project became a contest of sorts at Marion with freshmen through seniors vying to see who could bring in the most items. More than 8,000 items, ranging from rolls of toilet paper to bottles of hand sanitizer, arrived during a one-week period.
The junior and senior classes, both of which contributed 3,000 items, earned bragging rights along with a half-day movie/television break.
"We didn't stand a chance," freshman John Will says with a grimace. "The juniors and seniors headed to Dollar General after school and brought back a mountain of stuff."
Collection activities are under way this week at St. Henry, with the Redskin faithful vowing to best the Flyers.
The first packing session will be repeated once the next round of donations arrive during the coming days.
"Filling these boxes is like loading a dishwasher," Mescher says with a smile. "The more stuff you can squeeze in, the better."
The Gardens residents Hilda Steinlage and Cecelia Eyink work side-by-side, packing and talking.
"They (servicemen) will like everything," Steinlage says reaching for a handful of candy. "It's a good thing they're getting toothpaste along with all these sweets."
Eyink nods in agreement before replying, "There is a lot of stuff they can use in these boxes packed by grandmas and great-grandmas.
"Don't forget the CDs," Mescher reminds the assembly line crew. The stack yields gems like Jock Rock, Dan Fogelburg, Garth Brooks and a compilation of songs artistically labeled Nick's Picks.
Rachel Puthoff, a freshman at Marion Local, helps resident Roberta Good stuff as many Wet Ones packets as possible in blue and white U.S. Postal Service boxes.
"It makes me feel good knowing I can help military personnel serving in foreign lands," Puthoff says. "Without their efforts, the war could be taking place here."
Puthoff and the other teens, all members of the Marion Parish Cluster, donated their Saturday morning to prepare stacks of boxes for mailing. The donation of time satisfies the world component for Confirmation service projects.
The St. Henry Commercial Club and representatives of the West Ohio Healing Field have made contributions toward postage. Mescher could use additional donations as each box costs $8.10 to mail.
She also is seeking addresses of overseas military personnel from southern Mercer County, western Auglaize County, northern Darke County and neighboring Jay County, Ind.
"We're looking for people from a radius around The Gardens," she says. "We want to send them gifts from the homefront and thanks for a job well done."