Thursday, November 2nd, 2006
Difficult end of the line for Celina
Bulldogs bounced from postseason in three by Big Walnut
By Ryan Hines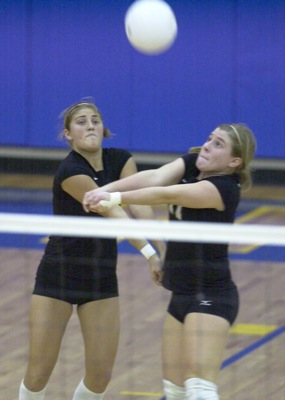 ONTARIO - It gets harder and harder to hide weaknesses the further a team gets in postseason play.
Poor serve receptions and woeful passing doomed Celina's volleyball team in regional semifinal action on Wednesday night as Sunbury Big Walnut rolled to a three-game win over the Bulldogs.
Big Walnut broke open a tied game and turned it into a 25-13 whitewash in the first contest, stole a late lead from Celina in winning game two 25-21 and then held back a furious Bulldogs' comeback in the third matchup, 25-23.
Celina was more than equal to the task at the net with Big Walnut, but the deciding factor in this match was the Bulldogs' inability to serve receive and pass effectively.
"Every time that we had a good pass, we got a kill, but we didn't get good passing consistently," said senior co-captain Betsy Hone. "The girls came out timid and you can't come out timid. You have to come out ready to play and you have to come out ready to win. If you come out timid you won't win the game."
Serve receive and passing have been glaring weaknesses all season for the Bulldogs and coach De De Stoner had no answers.
"Not being able to serve receive and pass has been our big weakness for the whole year. I tried different people to see if someone would step up and take it, but nobody did. We were on our heels, we sure weren't on our toes," said Stoner. "We talk about it and we work on it, but who knows why we come out like we do."
It looked like two evenly matched teams early in the first game as they were deadlocked at 9-9. However, Big Walnut attacked Celina's weak back row and won 16 of the next 20 points to take command 24-10, before eventually winning by 12 points.
"We had scouted them and we weren't sure on how well that they would be able to pass the ball so we wanted to make sure and serve aggressively and make them make tough passes," said Big Walnut head coach Ron Lehman.
Celina shrugged off the implosion of game one and actually led for a majority of game two before letting its lead slip away.
The Bulldogs led 21-19 late behind superb play from Hone, but Big Walnut's Hannah Swysgood led the Eagles back. Swysgood blasted four kills and Celina aided Big Walnut's rally with a pair of unforced errors as the Eagles closed the second game with six straight points.
Big Walnut rode the momentum from winning the first two games and built a big lead in the third contest. The Eagles jumped out 20-12 before a spirited Bulldog comeback.
Julie Klosterman stepped behind the service line with Celina trailing by eight points but the Bulldogs' freshman pulled the Green and White to within one point at 20-19 leading to a Big Walnut timeout. Big Walnut committed five errors to help bring Celina back into the contest.
Celina actually grabbed the lead briefly 23-22 on a Hone thunderous kill sending the Bulldogs' strong following into a frenzy, but a couple of Bulldog unforced errors and an Eagle block pushed Big Walnut to the three-game victory.
Big Walnut (23-3) will now play Bishop Hartley (24-3) on Saturday at 2 p.m. in a regional final with a berth to the state final four on the line.
For Celina (21-6), it was a disappointing end to a season that was loaded with potential according to Stoner, who said in the preseason that a state title was an attainable goal.
"I don't think that we've played to our potential all year," pointed out Stoner. "I thought that we would step it up and play the way that we are capable of playing in the tournament but that didn't happen. We had a lot of potential that went unfulfilled."
NOTES - Wednesday marked the first time that Celina played against a team in the postseason that it hadn't already beaten in the regular season. Celina beat Western Buckeye League foes St. Marys, Van Wert and Shawnee before downing Bowling Green (which the Bulldogs had beaten in the Celina Invitational). ...Stoner reiterated after the loss that it was a one-year deal for her coaching at Celina and that Nikki Etzler would return as head coach next year.