Wednesday, November 29th, 2006
Ag economist: Ethanol plants may have more problems than profits
By Nancy Allen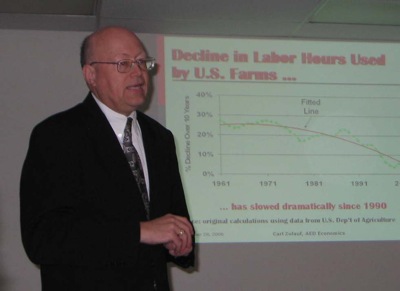 SIDNEY - Ag economist Matt Roberts is doubtful the latest wave of ethanol plants in Ohio will be profitable due to the unstable industry and the many unknowns associated with government regulations.
Roberts was one of three ag panelists who spoke during a Farm Policy and Outlook program held in Sidney on Tuesday.
Ohio currently has two ethanol plants and three more are planned or under construction. There also is a group of Mercer County farmers who are awaiting EPA approval to build a plant east of Celina. Ethanol plants turn grain into alcohol that can be blended with fuel.
"You need a payback of four to five years for an ethanol plant," Roberts said, adding there already is a company building a war chest of funds to buy ethanol plants it believes will fail and be sold off.
Roberts said he believes the push to E85, an ethanol/gasoline blend, is wrong because it is too expensive to consumers. The product is priced too closely to the price of gasoline.
"For this industry to continue to grow and thrive, ethanol needs to be priced much like an additive rather than a fuel," Roberts said. "It's a very big complicated issue that's exploded so quickly a lot of other mechanisms have not caught up. Congress doesn't know what to do, the ag industry doesn't know and what's going to happen to the domestic livestock industry ... there are so many unknowns."
The growing ethanol industry also will result in problems for poultry and hog farmers, the panelists said.
Corn demand for ethanol plants likely will result in rising corn prices and higher feed costs for livestock farmers. But on the upside, corn farmers likely will see higher earnings.
Ohio livestock farmers won't likely see the first effects of ethanol on feed costs until next year, when plants start operating, the panelists said.
"We have been able to ramp up the system to accommodate ethanol, but any more ramping up is going to disrupt the livestock industry," OSU agriculture economist Carl Zulauf said. "I think you're going to see poultry and hog farmers go ballistic."
Zulauf said poultry and hog farmers are starting to get concerned because they cannot use as much of the dried distillers grain (DDG), a byproduct of ethanol production, in their feed rations as farmers who raise ruminants, which include primarily beef and dairy cattle.
Zulauf explained that at some point next year the United States will begin producing more dried distillers grain than needed. At that point, dried distillers grain prices would begin to decline. For those farmers who raise cattle and other ruminants, it won't be of as much concern because they can use more of the low-priced dried distillers grain in their rations. But for poultry and hog farmers, whose feed costs are based primarily on whatever the market price for corn is, it will be.
Corn prices have been going up due to the demand for ethanol, and it will likely continue to increase, he said.
"For the nonruminant farmers who will pay the high corn prices for feed, they will not have much of a benefit from the lower DDG prices," Zulauf said. "The nonruminant farmers will see it as a very serious economic disadvantage and are deeply concerned what the feeding ration is going to do to their profitability and their ability to sustain feeding."
Zulauf said up until now, the United States has been able to absorb the increased demand for corn for ethanol because it had fairly large stocks. But that has changed and there are going to be adjustments made somewhere.
"Now we have gotten to the point to where we have now increased the demand for ethanol so much and consequently the demand for corn so much, we now have to redistribute demand and that is why you are seeing corn prices go up because we are having to ration between competing demands," he explained.
Zulauf said the market would result in certain adjustments, which could include nonruminant farmers reducing production, a slowdown in ethanol production, a slowdown in construction and the shutting down of ethanol plants.
"I don't think we know enough where the demand will adjust to the high prices of corn because we have never been through this before," he said. "The situation will have to play itself out."

Major changes likely in next farm bill:
There will likely be drastic changes in the next farm bill, and farmers should be prepared.
Carl Zulauf, a professor of agricultural marketing and policy at The Ohio State University, told attendees at a Farm Outlook and Policy program in Sidney on Tuesday that he believes many ag price support programs will be rewritten substantially.
Zulauf says there are many holes in the current farm program safety net, but the two biggest deal with loan deficiency payments (LDPs), which are paid to farmers whenever local market prices drop below government established support prices for commodities, and in the ability of farmers to receive price support payments even if they have high yields.
"LDPs are based on production, and if you don't produce anything due to, say, a localized drought, you receive a reduced level of government LDPs," Zulauf said. "And another hole is you can have a crop year when you have very high yields and low market prices, and they can get LDPs even though their income level is still pretty good."
Zulauf said the solution to fix those holes is to base payments on farmers' gross income, instead of governmental established prices for crops.
The government currently establishes support prices for most field crops. If the market price drops below that support price, then farmers receive loan deficiency payments (LDPs)
Public sentiment about subsidies and increases in farmer income likely will drive these farm bill changes, he said.
In the early 1900s the farm sector was in poverty compared with the nonfarming sector, but since the Great Depression (1929-1940), income steadily increased due to people working off the farm. During the last few years, farm household income has been 25 percent higher than nonfarming households, Zulauf said
"Farmers are telling me by their decisions the sector is not doing too bad and may even be approaching an equilibrium," he said.
Zulauf said it is probable that Congress will extend the existing 2002 Farm Bill one-year while it is debated and the new 2007 Farm Bill would not actually be approved until 2008.
He added that there is still "a huge uncertainty factor" of the next Farm Bill's makeup due to the run up in corn prices and the recent changes in the new Democratic makeup of Congress following the recent election.
- Nancy Allen