Wednesday, November 29th, 2006
Puthoff has bloodline to success at St. Henry
By Robb Hemmelgarn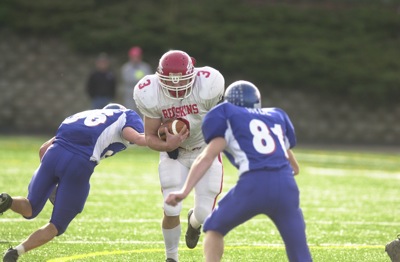 As St. Henry tailback Andy Puthoff's family stood, nestled discreetly in the southeast corner of Lima Stadium last Saturday, they had trouble keeping their emotions off their sleeves.
Puthoff just rumbled 15 yards for the score that put his team in front of Liberty-Benton 21-7. Along the fence row, his fan club beamed from ear to ear and laid hi-fives on anyone within firing distance.
All that seemed to be left were the formalities, as the final seconds ticked off of the clock in the third period. There was little doubt St. Henry was on its way to another state championship game and Andy Puthoff played a huge part in the reason why.
As quick as the road to Canton seemed to be paved, in just a few moments the Puthoff clan was pacing the gravel. A couple of them began to light cigarettes, as they all stared in disbelief. The scoreboard reflected the 21-21 score after the quick-striking Liberty-Benton offense feasted on St. Henry's pass coverage with a pair of fourth-quarter touchdowns.
"I think I forgot to breathe during that whole five-minute stretch," recalled Andy's dad, Ken, a former tight end for the Redskins. "Games like that are fun to watch, but it's definitely more nerve-racking when you have a son on the field."
It wasn't long before Ken, three of his brothers and two of his older sons could breathe again and all was good.
With two minutes to play in the game, the bruising 6-3, 230-pound tailback, cruised 35 yards for what eventually proved to be the winning score.
"We've had too good of a season for it to end any other way," Ken added. "We knew the boys would dig in and do what they had to do to take care of business, and thankfully everything worked out that way."
From the early-1970s through the middle of the 1980s, there was not a single St. Henry football roster that didn't don the last name of Puthoff somewhere down the list. Most times, though, you had to scroll to the bottom half of the roster to locate it.
With Andy's size, it was certain he was destined for a career on the line like almost every one of his uncles, but instead he has called the backfield home for the past four seasons.
"It means a lot to me to have all of my uncles and relatives watching me at the games," said the 2,000-yard All-Ohioan. "I always try to go out and do my best, but having them there it really gives me extra incentive to put on a good showing."
With the resurgence of Puthoff lineage back into St. Henry football lore, fans reminisce about years past when the family churned out athlete after super-sized athlete, most of who were aptly nicknamed, 'Putty.'
Andy's uncle, Frank, was a member of St. Henry's first varsity football team in 1971, and the tall, lanky, senior earned All-TCL (Tri-County League) honors as an offensive end.
Ken and Andy's uncle, Jim, came along a few years later and both made their mark as All-MAC offensive and defensive performers in 1974.
Don and Greg Puthoff each battled in the St. Henry trenches through the 1977 season and both played vital roles in the Redskins' back-to-back 9-1 campaigns in 1976 and 1977. They also helped pave the way for tailback, Ken "Juice" Post - St. Henry's first two-time 1,000-yard rusher and Andy's uncle on his mom's side.
Don became St. Henry's earliest and most decorated football player of his day - earning first team All-Midwest Athletic Conference honors both offensively and defensively in 1976. He was also the Redskins' first UPI First Team All-Ohioan that same season, and later that winter when he signed to play at Ohio University, he became the first of nearly 30 Division I college prospects the St. Henry program has churned out. He started four years at center for the Bobcats and was a first team All-Mid American Conference selection as a senior.
In 1977, Greg was a first team All-MAC lineman and later signed on to join his brother at Ohio, where he also excelled on the offensive line.
"I look at Andy's size and it's pretty amazing that he's the same weight that I was in college and I played in the middle of the offensive line," laughed Don, who earned All-American honors for the Bobcats his senior year.
"Kids now-a-days are just so much bigger, stronger, and faster. I really like to see how patient Andy is in the backfield. It's hard for me to give him advice though, I was a lineman, so what do I know about carrying the ball?"
More linemen followed through the years including Mike, Kevin, Ron, and Jeff. Mike and Ron were both All-MAC lineman and eventually Jeff, the "baby" of the bunch, ended the family's incredible stockpile after the 1986 season. Jeff was a member of St. Henry's first state playoff team in 1986 and was a first team All-MAC offensive lineman where he blocked for St. Henry's last "big" tailback - 6-2, 190-pound Tony Borgerding.
"I never had any younger brothers to watch go through the system, so following Andy the past few years has really been awesome," commented Jeff. "I can see a lot of similarities between Andy and Tony Borgerding. Tony was a big kid who didn't need much of a seam, and he could just run people over. Andy is about the same way. He's really fun to watch, and hopefully we can pick up one more win."
It didn't take long for the superior athletic ability to trickle down to the next generation. Three of Frank's daughters earned numerous honors as well as Division I scholarships on the volleyball court for St. Henry.
The oldest of the Puthoff boys, Dave, graduated before football started in St. Henry, however, his son Chris played high school football in Michigan and earned a scholarship to Western Michigan in the mid-1990s.
"I've been fortunate to have a lot of role models in sports and some very talented relatives play before me," Andy explained. "I would have to say my biggest role model as far as a running back, was my uncle Ken. Everyone in my family always says that I'm built like a Puthoff but I have a little of the 'Juice' in me too."
So now with one game to go in St. Henry's quest for its sixth state football title, it's Andy's turn to help lead his team - just like almost everyone around his family's Thanksgiving table has in the past.
"Football has always played such a huge part in my life and to have the chance to go out and win another state title for a program like St. Henry is a great opportunity and one that my teammates and I take very serious," he explained. "We will go out Saturday and have a lot of fun and play with a lot of heart."
While the latest 'Putty' may not be the first talented running back to help rush the Redskins to a state championship game, he is definitely the biggest - and big is what being a Puthoff football player has always been about.