Wednesday, December 6th, 2006
No more lighting up
By Shelley Grieshop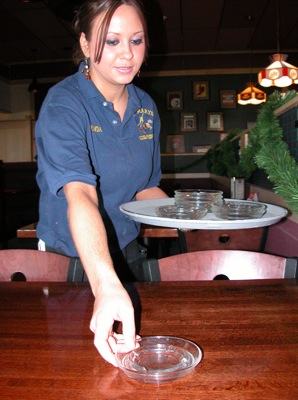 Public puffing is on its way out in the Buckeye state.
Ohio's new smoking ban, passed by voters in November, goes into effect at midnight tonight and prohibits smoking in all public places and businesses, excluding a few privately-owned establishments.
Rustic Haven Manager Gary Stroud was surfing the Internet this week trying to find the proper no smoking signs he must, by law, post in a "conspicuous" place at each entrance of the bar where he works in St. Marys.
"I found some signs that would work, but they wanted me to buy them," he told The Daily Standard, who directed him to the Ohio Department of Health (ODH) Web site, where various signs can be uploaded to print at no cost.
The signs can include either the international "No Smoking" symbol (a burning cigarette enclosed in a red circle with a red bar across it), which must be in color, or just the words "No Smoking" and the toll-free telephone number, 866-559-OHIO, where violators can be reported.
Posting signs is one of three steps business owners must take to comply with the law. Ashtrays and all other smoking receptacles must be removed and proprietors must prohibit all smokers from lighting up on their premises.
Violating the law could net a $100 to $2,500 fine for business owners who fail to comply and smokers who refuse to extinguish their cigarettes.
Rustic Haven has an outside patio - an exempted smoking site - that will likely see a lot more usage in the coming months despite the cold weather, Stroud said.
"We got a heater out there, we just need to get it enclosed," he said.
People will comply, he figures. Although about 75 percent of his customers don't smoke, many of them disagree with the smoking ban, he added.
"It shouldn't have gone through for bars and clubs," Stroud said.
Jon Warner, co-owner of the Orchard Tree Restaurant in Celina, said he removed all ashtrays shortly after Thanksgiving because "customers pushed for it."
"They kept asking, 'What are you waiting for?' " he said.
Some smokers were angry, some left threatening to take their business to Indiana where public smoking is still legal. But overall it hasn't affected him financially, and Warner doesn't think it will in the future.
"People will adapt," he said.
Kelly Menchhofer, the general manager of CJ's HighMarks in Celina, said the restaurant is waiting until the last minute to comply, but will follow the law to the letter.
"We have no choice," she said.
However, she and other business owners say they're concerned about how to deal with people who light up outside their front door.
"I guess we'll cross that bridge when we come to it," Menchhofer said.
Like putting the cart before the horse, the Ohio Department of Health (ODH) has until June 7 to adopt rules of implementation for the law. Without specific direction, county health officials - who must handle complaints and likely enforce the law at the local level - have been left in a fog of their own.
"The rules that come out in July will designate who handles enforcement of the law," said Kristopher Weiss, a spokesman for the ODH.
Weiss said officials at the state level will handle complaints until then, sending out warning letters to most violators the first time around.
"Like traffic laws, people are expected to follow them even if you don't see a state trooper parked along the highway," he added.