Saturday, December 9th, 2006
Former Wal-Mart site still awaiting tenants
Ohio is second with empty Wal-Mart buildings
By Shelley Grieshop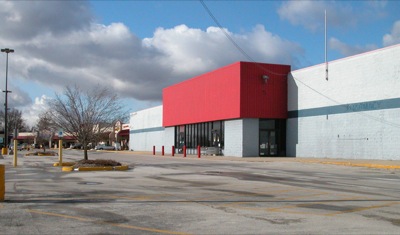 Seagulls from Grand Lake are the only visitors these days to the abandoned Wal-Mart building in Celina.
Although Wal-Mart officials - specifically their own realty division - and Lakewood Village Shopping Center owner Austin Management are busy trying to market the nearly 69,000-square foot building, it remains empty.
Ohio has the second-largest number of abandoned or soon-to-be abandoned Wal-Mart buildings in the U.S., a growing phenomena as more Supercenters appear, according to Wal-Mart Realty's Web site. Texas leads the country with 32 former stores awaiting tenants; Ohio has 20 and North Carolina is third with 19. There are currently about 280 Wal-Mart buildings for sale across the country.
In May 2005, Wal-Mart left the smaller building along Havemann Road and moved across the street to the new 204,000-square-foot Supercenter, also leaving behind a lease that doesn't expire until Jan. 2010, company spokesman Kevin Thornton said.
"We usually try to find subtenants, buy out our lease or try to sell the building ourselves," he explained.
In this case, Wal-Mart is trying to sublease, preferably to another retailer, he said, refusing to say how that progress is going.
"I know people see empty buildings and it looks bad but you have to remember it's in our own best interest to fill them, to get traffic in the area. We're open to do any deal that makes sense, whether it's with a competitor, a local company, whomever," Thornton said.
Austin Management spokes-man Marty Graff also confirmed they currently have no offers on the table.
Celina Community Development Consultant Kent Bryant said he heard more than a year ago that the selling price for the building was "pretty substantial," but he refrained from repeating it publicly. Bryant said the city intends to do what they can in the next few months to help market the building.
"It's my hope that someone, like a retail chain, will come in there, something like a Kohl's would be nice," he said. "We need to find the right fit to help expand the area for the future."
The Celina Supercenter and the strip mall businesses adjoining it appear to be thriving and will soon be neighbors to a Menards home improvement store slated to begin construction next year.
Wal-Mart officials say their inventory of vacant stores is at a 10-year low with retailers such as Hobby Lobby, Big Lots and Tractor Supply filling many of the buildings. Thornton said the number of empty Wal-Mart stores is high in Ohio because demand for Supercenters are great across the state.
"There's more growth, more demand, more customers here," he said.
To date, there are 96 Supercenters, 38 regular discount stores, 30 Sam's Clubs and five distribution centers in Ohio, employing 52,005 "associates," as they call their employees.
Thornton said before officials decide to build new Supercenters they first contemplate remodeling the old buildings or constructing on the current site. Neither option was suitable for Celina's Supercenter, he said.