Saturday, December 9th, 2006
Fort Recovery ends MAC drought
Indians win first league game in over a year
By Gary R. Rasberry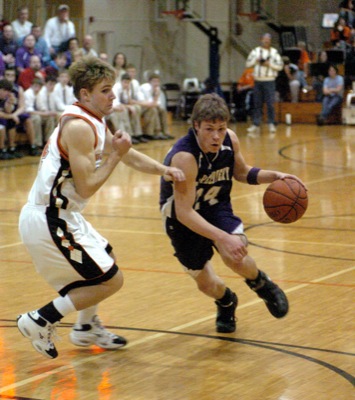 VERSAILLES - With eight minutes to go and down nine, Fort Recovery coach Brian Patch told his team they could make a run to get back into their game with Versailles.
And what a run they made.
The Indians outscored the Tigers 26-14 in the final quarter, posting their first Midwest Athletic Conference win since the 2004-05 season with a 58-55 victory over Versailles at Tiger Gymnasium.
Fort Recovery improves to 2-1 as Versailles evens their ledger at 1-1.
The Tigers had a double-digit lead, 34-23, with 5:20 to go in the third quarter but Fort Recovery immediately got it back to under 10 points and stayed at that distance through the rest of the quarter.
"I just told them we could go on a run here," said Patch about his talk between the third and fourth quarter. "We're a pretty good team. We have guys who can shoot the ball. ... We told them we're going on a run, be patient, get some stops and keep our heads in it. Keep being aggressive on the floor.
"We felt we had them tired and down somewhat. We just told them to keep on battling."
The turn began when freshman Greg Kahlig drove the lane, hit a layup and was fouled 30 seconds into the final stanza, making the free throw to cut the Indians' deficit to 41-35. After a missed Tiger free throw, Bobby Rammel sank a jumper to make it 41-37.
A Rammel three-pointer cut the Versailles lead to just one point and with 6:03 to go in the game and later Clint Tobe nailed a three-pointer, giving the Indians their first lead of the game.
"Defensively, I was a little disappointed in the second half," said Versailles coach Scott McEldowney. "(Fort Recovery) did a great job, give them credit, of taking advantage. It was five guards (Fort Recovery) playing against a big team (Versailles). They were able to spread us out. I thought we could have done a much better job than what we did of being able to help recover. I think we got a little carried away with their three-point shooters."
Tony McNeilan gave Versailles the lead back with a bunny nearly a minute later, only to have Tony Diller get a putback with five minutes left to make it an Indians' one-point lead. McNeilan hit one free throw to tie it at 45-45 with 4:48 left and the next several minutes turned into a one-on-one battle between the Indians' Aaron Kahlig and the Tigers' Bryant Ahrens as the duo alternated baskets.
"Here's a senior who's played three years of jayvee for us," said Patch of the senior Kahlig. "We had a talk about the things we needed in being a leader. He came out and we spread the floor a little bit to run down the clock. He had a one-on-one chance and took it to the hole and scored."
Finally, Aaron Kahlig hit a driving layup with 59 seconds left to make it 53-51 Fort Recovery. After a timeout, Versailles promptly lost the ball as Greg Kahlig got the ball and was immediately fouled. The freshman calmly swished both free throws to make it 54-51 with 28.5 seconds left.
Shardo drove the lane untouched and scored to cut the Tigers' deficit to two. Rammel was fouled on the inbounds play and went to the other end for two, making both to make it four points again. Shardo again drove and scored, but with the Tigers out of timeouts, it came down to fouling quickly.
Greg Kahlig was tagged again and went to the line with 5.9 seconds left. The freshman missed the first, but hit the second to make it a three-point game. Shardo's three-point attempt was short - putting him at 0-of-9 from behind the arc on the night. Toby Metzger got the rebound, his 12th of the night, to end the game.
"We looked at this game on the schedule from the beginning," said Patch. "It was one of those games that was either going to jump start us or one of those that would determine if we would have a struggling year. Coming in, it wasn't do-or-die, but it was one we thought we had to get. It's nice to get a MAC win, especially since we didn't win one last year. It's good to win on the road."
The foul line was good the Indians, connecting on 13-of-17 on the night. While it was the glory for the Fort, it was the bane for the Tigers as they were just 8-of-17.
"We're a pretty good group of shooters, but one of the things we haven't done well in the past is shoot free throws, which is odd," said Patch. "Tonight we stepped up. Clint hit a couple. Greg hit a couple and Aaron hit a couple. We shoot 50 every day in practice."
Aaron Kahlig led the Indians with 16 points and Greg Kahlig had 12 with Toby Metzger and Tobe contributing 11 and 10, respectively.
Shardo came up with a 21-point night, albeit on 9-of-23 shooting while McNeilan and Ahrens each added nine.
Both teams are back at home tonight against Cross County Conference teams. Fort Recovery hosts Tri-Village with Versailles hosting the Buccs from Covington.