Wednesday, December 20th, 2006
After caring for generations, Dr. Jim to retire
Otis to close Celina office at beginning of 2007
By Margie Wuebker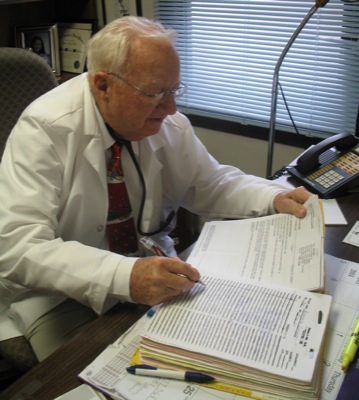 Still practicing medicine at 93 years old, Dr. James J. Otis of Celina reminisces between some of his last scheduled appointments.
Otis, better known as Dr. Jim, plans to retire at the end of the year, capping a career that spans 66 years.
"I'm older than most of my patients," says Otis, dressed in a white coat and whimsical Santa Claus tie. "They don't seem to mind and neither do I. The majority have been with me for decades; I've cared for generations in many families."
He has delivered more than 2,000 babies during his career, including the first set of triplets in Mercer County to survive without the benefit of incubators. Babies had a tendency to arrive at inopportune times like the wee hours of the morning, in the midst of holiday celebrations or in the aftermath of a paralyzing blizzard.
He chuckles recalling one diagnostic faux pas during the early years of practice. He attributed a local woman's complaints to a pelvic tumor and suggested she consider surgery. The patient returned a month or so later with a knowing smile and news the "tumor" was moving.
"I just called the little baby to wish her a happy 63rd birthday," Otis says from his North Walnut Street office. "And we shared the story one more time."
He also recalls boarding a snowmobile bound for a local home where a woman was about to give birth during the January 1978 blizzard.
"The drifts were so high I had to crawl on the hood of a car to get inside," he says. "A neighbor woman with nursing experience assisted with the delivery. Everything went fine until I decided to walk home. I got swallowed up in a drift that was taller than me."
The baby, now known as Kristin Huser Rutledge, owns Identity beauty salon next door to Otis' red brick office. Expecting her second child on Jan. 25, she hopes there are no unexpected developments or blizzards.
"Dr. Otis is a lot like the Energizer bunny on television," she says. "He just keeps going and going."
A March 2003 traffic accident nearly took its toll, but attending physicians quickly learned what his patients knew all the time - you can't keep Dr. Jim down for long.
He demanded a chart and wrote detailed instructions for an area woman's admission before allowing emergency room personnel to treat his broken ribs and punctured lung. Doctor and patient ended up side by side in the intensive care unit at Joint Township District Memorial Hospital in St. Marys.
"We were told Dad would be in ICU at least six weeks," says Jeanie Otis Hamm, who has served as office manager and nursing assistant for more than a decade. "He went home in 17 days and made us stop at a dealership in order to buy a new car."
He even treated a patient who tracked him down, administering an injection from the well-used medical bag that accompanies him everywhere.
Otis, a diehard Ohio State Buckeyes fan and an accomplished golfer, admits medicine was the only career he ever envisioned. As a youngster, he accompanied his father (Dr. L.M. Otis) on hospital calls and home visits. He wielded a stethoscope with skill and showed diagnostic prowess at the age of 3 with a younger sister playing patient.
Following graduation from the University of Cincinnati College of Medicine in 1939, he completed a short internship and residency at hospitals in Toledo and Cincinnati before joining his father's practice Oct. 1, 1940.
The elder Otis, who established the former Otis Hospital on East Market Street, proved to be a wonderful teacher in the office as well as the operating room.
"My dad was an excellent surgeon who taught me everything he knew," Dr. Jim says. "Back in those days family doctors did everything from delivering babies to taking out tonsils. Surgery often took place on the dining room table."
He remembers one procedure involving a woman with a clearcut case of gallstones. Without the aid of modern ultrasound equipment, he diagnosed the problem and ordered emergency surgery.
"I administered a spinal anesthetic and then proceeded with surgery," he says with a smile. "There was just me, a nurse and the patient in that room. I would be tarred and feathered if I tried something like that today."
Otis never stopped learning because he wanted to ensure patients received the finest, most up-to-date medical care.
"I have often marveled at that man and his keen mind," says Dr. Manuel Tzagournis, former dean of the OSU School of Medicine and a longtime friend. "He attended so many seminars over the years to keep abreast of new developments. He is a brilliant diagnostician who never hesitated to refer patients to a specialist."
The veteran doctor, believed to be one of the oldest practicing physicians in the state, has seen so many developments over the years from ultrasound to MRI equipment. Inpatient surgery with long hospital stays have given way to outpatient procedures with the person typically going home before dinner. The arsenal of modern drugs still amazes him. After all, sulfa and penicillin were the only weapons at his disposal in the early years.
He reluctantly gave up obstetrics and surgery due to advancing age. However, the decision to retire is more difficult than he ever imagined.
"I always expected God to retire me on a permanent basis," Otis says with a sigh. "My family (wife Betty and their four children) have other ideas. They want me to have more time for hobbies like tailgating at Ohio State football games, deepsea fishing in Florida, raising tomatoes in the summer, playing 18 holes of golf several times a week, reading medical journals and heaven knows what else."
The family has agreed he can follow several serious cases to completion, but all other patients will be referred to other physicians.
"I'll never stop thinking as a doctor," he says looking around the office as if to remember each certificate and award. "Once a doctor, always a doctor."