Thursday, January 11th, 2007
State-ranked teams square off at the Fort
By Gary R. Rasberry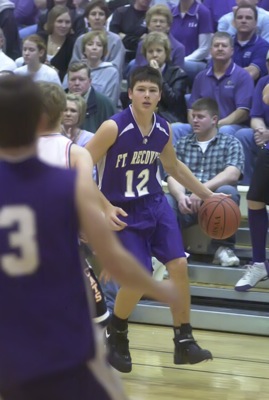 Compiled by Gary R. Rasberry

As conference basketball play is back to full speed after the holidays, the Midwest Athletic Conference title chase brings up some big matchups.
One of the bigger confrontations will take place at Fort Site Fieldhouse in Fort Recovery, as the Indians host a New Knoxville team that's playing some of the best basketball in the state.
Dan Hegemier's Rangers come in as the third-ranked team in Division IV in the first Associated Press basketball poll of the season. New Knoxville went to 9-0 on Tuesday with a 67-28 win at Jackson Center.
The mix of offense and defense has been the key to the squad. Only once this season has New Knoxville allowed more than 50 points, that coming in an 84-66 win over a tough Spencerville squad in December. On the season, the Rangers are giving up an average of 41.1 points per game.
Offensively, the team has hit 90 or higher twice and is running at a 70.7 points per game clip. The gaudy numbers aren't that much of a surprise to those who follow the MAC closely as the Rangers have most of their nucleus back from a year ago.
Leading the way for New Knoxville is 6-4 junior Ross Stienecker, who leads the team in scoring at 21.3 points per game.
Junior Josh Niemeyer (6-0) is solid at guard for the Rangers averaging 13.2 points per game while backcourt mate Tony Meyer (5-9, sophomore) is averaging eight points per game after a solid freshman campaign.
Adding to the inside game is 6-3 Marcus Henschen, who is just under double digits in scoring on the season at nine points per game.
The Indians come into the game 6-3 and ranked 11th in the first state poll. After starting out 6-1 with big wins over Versailles, Coldwater, Arcanum and St. Marys, Brian Patch's squad has hit a bump, losing to Minster last Friday in MAC play before suffering a 16-point loss to Houston on Saturday.
Six-four junior Clint Tobe has been the big go-to scorer for the Indians thus far, averaging 14.8 points per game. Despite being the tallest player for the Indians, Tobe works off a wing, which could give the Rangers some matchup issues.
Senior Aaron Kahlig has waited three years to make an impact on the varsity level and is doing well this year, averaging 11.6 points per game while hitting on 56 percent of his shots. Sharpshooter Bobby Rammel has been solid as well, hitting 18 three-pointers on the way to averaging 7.3 points per game.
Point guard Toby Metzger has matured greatly in his sophomore season after trying to adjust to varsity play his freshman year. Metzger is just under double digits at 9.3 points per game and his 3.9 assists per game average is among the best in the area.
Off the bench, Fort Recovery stays young. Freshman Greg Kahlig is averaging 21.1 minutes per game and 9.2 points per game.
Just like New Knoxville, both teams like to go up-tempo, so expect the scoring to be high as Fort Recovery averages 62.1 points per game.