Monday, January 15th, 2007
Fit and trim through the years
Local women mark 30 years each of keeping the pounds at bay
By Janie Southard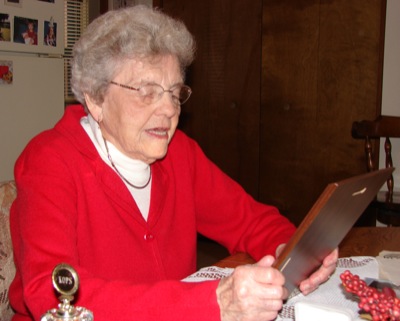 ROCKFORD - January is a month when many area folks give at least passing thought to losing weight.
Octogenarians Alma Davis and Martha Stober don't think about it much because, after 30 years of keeping their weight under control, January is just another month.
Both ladies credit KOPS (Keeping Off Pounds Sensibly), a local division of TOPS (Taking Off Pounds Sensibly), for their success in more than 60 combined years of maintaining a healthy weight. KOPS meets every Monday at St. Paul's United Methodist Church in Celina.
Davis, 86, who retired from the Mercer County Soil and Water Conservation District in 1980 after 23 years service, decided she didn't want to just sit around.
"I wanted to stay active and enjoy retirement. I knew exercise and healthy eating would be key in what I hoped to do," Davis says from her rural Rockford home.
She looked at various groups and plans but chose TOPS because of "their positive attitude."
(The other members) just never let you get discouraged," she says, adding she had taken off a lot of the weight she wanted to lose before she joined. "I guess what I was really looking for was support in keeping the weight off, that's where KOPS came in."
Davis' ah-ha moment to lose weight came some years before when her young son came into the kitchen where she was cooking supper. "Mommy," he said looking around the room, "you're bigger than our (potbelly) stove."
"Well, you can imagine the effect that had on me," says Davis, now a trim lady who looks and moves like a much, much younger woman.
Once Davis achieved her goal weight in TOPS she immediately joined KOPS and has been an active member for the past 30 years.
Stober, who lives in a neat-as-a-pin apartment complete with a stationary bike and a treadmill in Rockford, will celebrate her 90th birthday in April. Like Davis, Stober's appearance and streamlined mobility would be prized by any person 40 years her junior.
"You have to want to do it. You must make a plan and be determined to carry it out. No one can do it for you," says Stober, who retired in 1972 after 19 years with Goodyear in St. Marys. (At that time she was married to the late Harold French, also a Goodyear employee.)
Since 1985 Stober has exercised three times a week at a Celina spa. It is only recently that she gave up swimming laps and floor exercises in favor of water aerobics.
"I swam over 100 miles in that (spa) pool, but others have done that. Maybe the unusual part is that I didn't learn to swim until I was 68 years old," she says, adding her inspiration to stay in shape was to live to see her family grow up.
Stober, who has been active in KOPS since 1979, has learned what a well-balanced daily intake of food is.
"There's no special food; the real key is to know what a serving is," she says, pulling out a plastic bag of pretzels she's had for several weeks taking only a couple out now and then for a snack.
She doesn't typically snack after dinner but if she does, it may be a cup of cocoa using skim milk or a couple crackers. "I really don't think much about snacking one way or another," she says.
She observed that women's lives have changed greatly over the last several decades.
"We used to wash clothes in a tub washer, carry the clothes outside and hang them on the line - and other jobs like that. We didn't have to go anywhere for exercise," she says.
Both women dismiss any homage to age with respect to their physical condition. They believe they are just doing what needs done to keep themselves fit.
"Well, I guess if I had to sum up weight control, I'd say the choice is always yours," Stober says.