Monday, January 15th, 2007
Celina swimmers take second at invite to WBL rival Shawnee
By Gary R. Rasberry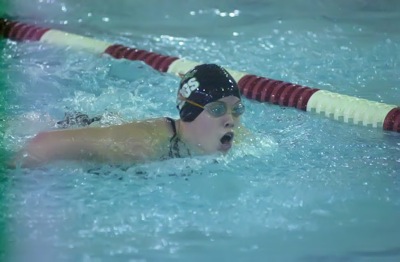 Compiled by Gary R. Rasberry

With league meets coming up within a few weeks, area swim teams gathered at the Wapakoneta YMCA on Saturday to take part in the Celina-Wapak Invitational.
The co-host WaterDogs came up with a big day, but the pesky Shawnee Indians were able to hold off Celina in both the boys and girls division.
The boys' competition was close as the Indians edged Celina 2261/2 to 2221/2.
"They got us by four points," said Celina coach Matt May. "They're tough. They got away from us. They're talented.
"We had a good day, both teams. I was proud of our kids. They swam great. Good teams and good competition. Just nice to have everyone here."
The girls division was a little more spread out, but Shawnee and Celina were clearly the first and second best two teams. Shawnee won with 342 points as Celina finished with 248. Ottawa-Glandorf was a distant third with 178 points.
The WaterDog boys had big days from junior Dan Hierholzer, who swept the 50-and 100-yard freestyles in solid times, then swam legs of the winning 200 medley and 400 freestyle relays.
"That 400 relay was pretty dominating," said May. "It showed what our boys are capable of. Danny did a 52 (second) split in that and Eddie also went a 52 split. Those are two times that surprised me."
Craft, already known for his diving with trips to the state meet in his portfolio, continued to show that he can be successful swimming events as well, winning the 200 freestyle and swimming on the winning 400 relay.
Aaron Curtis and Eric Adams joined Craft and Hierholzer on the 400 relay while the medley relay was made up of Adams, Hierholzer, Jonathon Curtis and Jay McKirnan.
The Celina girls did most of their damage with plenty of finishes in the top four. The lone win came from sophomore Kirsten Samples, who battled Shawnee's Katie Hoops in the 50 freestyle, edging the Indian sophomore by 0.32 seconds for the race title.
"Kirsten Samples getting that monkey off her back and winning the 50 freestyle gave her a boost. Paige (Mertz) is now in our relay, doing a 25 split. That was real encouraging. We had some good things happening today."
Freshman LaRae Dorsten finished second in the 100 butterfly. The Celina 200 free relay (Dorsten, Samples, Courtney McKirnan and Paige Mertz) placed second while Lisa Hertel took Mertz's spot and helped the WaterDogs to a second-place finish in the medley relay. Mertz and Hertel were joined by Stephanie Heyne and Alicia Zacharias to take second in the 400 free relay.
With the Western Buckeye League meet slated for the first week in February, May knows that his team will need to get their final tuneups completed in short fashion.
"We'll start resting our kids towards the very end," said May. "Our focus meet is districts, really. We just swim through the WBL and what happens, happens. There's a lot of good teams out there and if we beat them, we beat them. It's good competition and the kids are always up for it."
In the women's division, St. Marys posted a fifth-place finish with 108 points and Coldwater was eighth with 41 points. Rounding out the standings were Minster (11th, 13 points), St. Henry (12th, nine), Marion Local (13th, eight) and New Bremen (14, sixth).
St. Marys' Jasmine Craft gave St. Marys its highest finish with a second-place effort in the 100 freestyle.
Coldwater's Gina Harting paced the AquaCavs with a third-place showing in the Individual Medley and took fourth in the 100 freestyle.
The Coldwater boys were the next highest finisher of area teams with a sixth-place effort. St. Marys was eighth, Minster ninth, New Bremen 10th, St. Henry 12th and Marion Local 13th.
St. Henry's Scott Weitzel captured the 100 breaststroke for the Redskins.
Sean Anthony paced Coldwater with a second-place showing in the 500 freestyle while big brother Patrick took seventh in the 200 freestyle. Minster's Marc Prenger took second in the 50 freestyle.