Saturday, January 20th, 2007
Flyers coast after an incredible first quarter
By Randy Bruns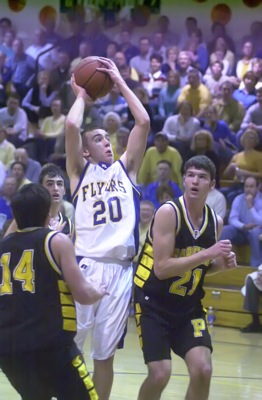 MARIA STEIN - The Marion Local Flyers played an almost perfect first quarter of basketball against the Parkway Panthers Friday night at the Hangar, and the extraordinary start propelled them to an easy 62-42 Midwest Athletic Conference victory.
Marion moves to 6-3 on the year and its 3-1 conference mark keeps it one game back of league-leading New Knoxville. Parkway falls to 4-9 overall and 0-4 in the MAC.
The Flyers drilled 10 of the 14 shots they took in the opening frame (71 percent), and their sticky matchup zone held the Panthers to just 3-of-11 from the field (27-percent). Meanwhile, the hosts didn't commit a single first-quarter turnover while forcing four Panther miscues that were quickly turned into easy buckets.
The result was a 23-9 lead for the Flyers heading into the second period, but they weren't satisfied with their advantage and quickly went to work on building a bigger bulge.
The Flyers started the second with five unanswered points, and after Panther Josh Fisher tallied a rare four-point play, the hosts finished the half with an 11-1 run that gave them a 39-14 lead at intermission.
To their credit, the Panthers continued to play hard in the second half and trimmed their deficit down to 17 early in the fourth, but six quick points by the Flyers built up a more comfortable margin for the Blue and Gold.
"We came out and shot the ball well, and the defense moved really well tonight," said Marion coach Keith Westrick. "The defense looked quicker tonight because we anticipated a lot of things and were able to get our hands on some passes. In the first quarter we had some good shooting, but in the second quarter we were able to get some transition baskets out of our defense."
The Panthers were short-handed in the game, as they lost leading scorer and rebounder Jordan Thompson to what could be a season-ending ankle injury earlier in the week during practice.
"With Jordan being out, he's a big part of our offense," said Parkway coach Doug Hughes. "We just struggled to get any open looks but that's a great defense that (Marion) plays, and you just hope that you don't give up as many open looks like we gave them tonight."
The Flyers got extremely balanced scoring across the board, as Kurt Homan and Damon Bertke led them with 11 points each and five other players tallied at least six markers. The Panthers were paced by Derik Snyder's game-high 18 points and Fisher chipped in with 16.
Marion returns to action tonight when it heads east on State Route 119 to take on Anna, while Parkway is off until next Friday when a struggling Delphos St. John's squad pays a visit to the Panther Den.