Saturday, February 3rd, 2007
St. Henry finds its stroke in second half
By Mark Ruschau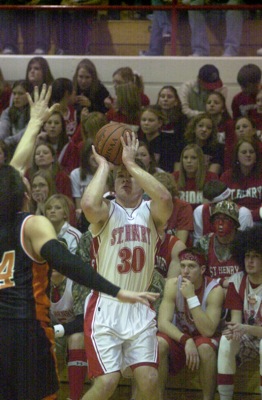 ST. HENRY - The St. Henry Redskins used a red-hot second half of shooting from all points on the floor to pull away and rout the Minster Wildcats, 73-47, in Midwest Athletic Conference action from the St. Henry Middle School on Friday night.
With the win, St. Henry improves to 4-2 in conference play and 9-6 overall while Minster falls to 3-3 in the league and 8-8 overall.
The shooting numbers tell the story of this one as St. Henry hit on 27-of-54 shots from the floor, including 10-of-20 from three-point range.
The big story for the Redskins was their second-half shooting as they connected on 7-of-9 from three-point range and 16-of-25 overall. The Redskins turned the ball over just five times.
Senior Andy Puthoff led three Redskins in double figures and 10 players in the scoring column with a game-high 19 points, including a three-of-five showing from three-point range.
Fellow St. Henry seniors Tyler Post and Zack Thobe added 14 points and 12 points, respectively.
"When you shoot 50 percent from the floor for a game, there's not much more that you can say about that," commented St. Henry boss Joe Niekamp. "We had some pretty good looks and the kids knocked them down. From the three-point line, Andy Puthoff and Tyler Post were really solid. I thought the effort was just great on both ends of the floor tonight and it's nice to get a win like this.
"Penetration is something that we have always stressed and that's something that we did tonight," continued Niekamp. "We got the ball to the basket early and that gave us chances to hit three-point shots and we were able to knock them down. That makes for a pretty nice night."
"We talked last week about getting back into a basketball when we were down and tonight we had the deficit down to six points early in the second half and within a matter of three trips, between their shooting lay-ups and us not closing out on their good shooters on the perimeter, that six-point deficit went to 12 or 15 in a heartbeat," said Minster coach Mike Lee. "St. Henry can shoot and they proved tonight that they can hurt you with their dribble penetration."
While St. Henry had a good shooting night, Minster struggled all night long on the offensive end as the Wildcats hit on just 14-of-55 from the field for just under 26 percent, including just 3-of-22 from three-point range.
Minster's two leading scorers, Zac Boeke and Jimmy Stechschulte combined for 24 points (12 points apiece) but they combined to connect on just 7-of-25 shots from the floor, including just 2-of-15 from three-point range.
"On the defensive end I thought the kids played with a lot of determination and a lot of patience," said Niekamp. "I thought the defense did a good job of getting us some extra chances on the offensive end."
"I think we got frustrated a little bit offensively in the second half," said Lee. "We didn't change a whole lot offensively, but St. Henry executed well defensively tonight and that's a sign of a good veteran team. You just have to give credit were credit is due."
St. Henry has a huge game Friday night as it attempts to stay in the conference race traveling to undefeated New Knoxville. Minster is back in action tonight at home with Jackson Center.