Thursday, February 8th, 2007
Residents, health officials square off over permits
By Shelley Grieshop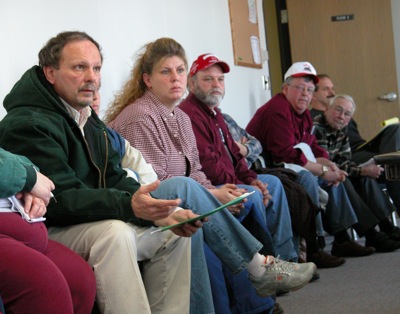 A dozen angry residents blasted Mercer County-Celina City health officials Wednesday for denying them sewage system permits in 2006, even though they met the state's deadline to apply.
Because of an overwhelming number of permit applications last fall, the county's two full-time sanitarians said they were forced to turn away residents more than a week before the Dec. 29 deadline, a timeframe established by the Ohio Department of Health (ODH).
The local health department quit issuing permits Dec. 21.
A more strict and costly state law took effect in January and dictates how new rural septic systems or failing ones must be constructed and approved. A record number of county residents applied for permits in late 2006 to beat the end-of-the-year deadline so they could build their sewage systems under the old regulations.
The stormy session Wednesday ended with health officials promising to take the issue to the state to seek an extension or exception for the 44 residents who came to the health department in Celina before or on the last business day of the year, and were denied a permit.
However, state officials told The Daily Standard it's unlikely the request will be granted.
"There's really nothing we can do. County officials had to submit their written approvals for each site before 2007 in order to issue a permit under the old rules," said Kris Weiss, a spokesman for ODH.
Weiss said state officials stand behind the actions of Mercer County health officials but will further address the issue when the county puts their concerns in writing. No other counties have contacted the state with a similar problem, he added.
Mercer County sanitarians on Wednesday told the disgruntled residents they simply could not keep up with the demand late last year. The health department issued 848 permits last year - 376 in December alone. The average number is 100 per year.
Sewage system permits expire after one year, and health officials believe many of those issued in 2006 will go unused because of the shortage of certified contractors.
"We had no way to anticipate the demand we had," Michelle Kimmel, the county's director of environmental health, told residents.
The county's policy is to perform a property site inspection first, then issue a permit if everything is approved. Kimmel explained that she and fellow sanitarian Chris Miller brought Bio-terrorism Coordinator and Sanitarian Bruce Gander on board to help handle the workload, but appointment times filled up quickly.
Kimmel admitted she made the decision to quit issuing permits on Dec. 21. After that date, she asked permit applicants to sign a waiting list that would be used if there were cancellations, "with the understanding there were no guarantees," she added.
"So how many hours did you work that last week?" asked Larry Muhlenkamp, a St. Anthony resident who attended the Wednesday health board meeting.
Kimmel said some overtime was clocked, and lunch was often cut short.
But Muhlenkamp persisted, wanting to know exactly how many hours were worked.
"I drive a snow plow and just put in 16 hours and was back in my truck again today," he said. "Your manpower (problems) should not affect the time we have to get things done. You work for the public, you work for us."
Mercer County Assistant Prosecutor Amy Ikerd, who legally represents the health department, told the crowd the agency's hands are tied at this point.
"The state has taken away their order to issue those permits," she said.
Ikerd continued to defend the sanitarians, angering many in the audience.
"Ma'am, there's 44 people here on this list that say you're wrong," said Rockford resident Gary Brehm.
Brehm, the designated spokesman for the group, said he didn't understand how county officials could override the state's deadline and quit issuing permits eight days early. He also said more information about the new regulations and any deadline changes should have been made public, so he and others could have applied sooner.
"I don't subscribe to The Daily Standard; I don't listen to the radio," he said.
Kimmel said health officials spoke about the new regulations at several public meetings last year, including three township meetings. Several stories also were published in The Daily Standard.
Brehm suggested a notice could have been posted on real estate tax bills sent to rural residents.
Mercer County wasn't the only area county to cease issuing permits early, some terminated the process as early as Thanksgiving, Kimmel said. However, neighboring Auglaize County continued to issue permits through the end of the year by delaying the on-site inspection process. State officials said that process, too, was OK by them.
Several residents questioned why there were no signs posted to explain what "the list" meant, since the sanitarians were out of the office often and unable to field questions. Many residents said they thought signing the list meant they would receive a permit grandfathered under the old regulations. Others mistakenly believed every rural property had to replace their current sewage system this year even if it was not failing.
Health board member Bill Goodwin suggested the health board pen a letter to ODH to request an exception for the 44 people on the list. The motion was unanimously approved.
Health Commissioner Dr. Philip Masser apologized to the meeting guests for the "misunderstanding," although he added he felt it wasn't the health department's fault.