Thursday, February 8th, 2007
Music made by hand
They told him he was crazy. You don't just build a harp. They didn't know Phil Wood.
By Shelley Grieshop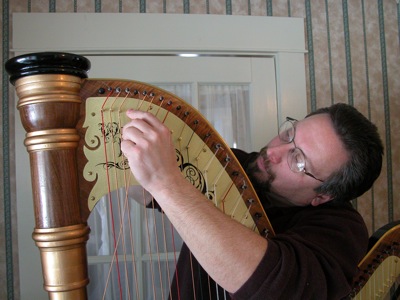 "A couple of years ago I saw a
harp for sale on eBay. I thought maybe I'd just buy one, I always wanted to learn to play. Then I saw the price and thought maybe I'd just make one," says Wood of Fort Recovery.
Before producing three beautiful handcrafted harps of various sizes, he did his homework. The self-employed artist visited a music shop in Bloomington, Ind., and leaned a $45,000 harp on his shoulder to get the feel.
The idea of sculpting his very own
from choice wood soon became an
obsession and an adventure.
"It took a long time to get the information I needed to get started," says the 42-year-old.
Along the way, he spoke to harp makers from as far away as Australia, Wales and Canada.
"I always got about enough information to be dangerous," he says laughing.
There are many different types of harps such as concert varieties with foot pedals and electric versions. Wood decided to craft folk harps with his own personal gold and brass etchings. He envisioned the design he wanted but had trouble getting help with his plans.
"Some people I talked to said try it, if it works, let me know," he says. "There was a lot of trial and error."
At first he was frustrated that no one seemed willing to share tips with him until he realized all handmade harps are unique and have their own physical characteristics and sound based on the wood chosen for the soundboard and neck.
Nearly four years ago, he began
special ordering planks of spruce, oak, cherry and walnut, as well as a high-end birdseye maple veneer. Constructing
the harps was no picnic. Some pieces simply fell over and broke; wood warped for no reason in particular. He sawed, sanded and carved and at times thought he would never reach his dream.
"I learned you can't rush the steps. I tried and have about a dozen (harp) necks out in the workshop," he says. "The most important thing is to build them in the proper order."
Today, his finished instruments range in size from an easy-to-handle 30-string, weighing about 18 pounds, to a 47-string harp that weighs about 80 pounds and is taller than Wood.
The largest harp has an extended soundboard that flares at the bottom to produce more sound from the bass strings. Its overall construction had to be sturdy enough to withstand about 1,800 pounds of pressure/tension from its strings.
The medium-sized instrument is a French style with a wider soundboard at the top that produces a higher resonation on the upper end. It has 43 strings and weighs about 65 pounds.
The smallest, at 50 inches from stand to neck, is the one he plans to keep as a demonstration model. It has a soundboard made of a simple, thin plywood but makes a heavenly sound when strummed.
For the strings, each harp's dimensions were relayed to a man in Oregon who "did the math" and told Wood what size and type to order and how to space them. A single set of custom-made strings costs about $400, Wood adds.
Wood couldn't wait to get the strings in place. But his first attempt at plucking a chord was a letdown.
"It sounded like a box of crackers," he says.
Harps require a lot of tuning each day for the first few weeks they are played and periodically after that, he says. Wood uses a handheld digital sound device to get the job done.
Although he plays drums, guitar, piano and a few other instruments, he does not read music. So, by using videos and how-to-books he now is teaching himself how to play the instruments that grace his dining room.
The same hands that carve wood and form clay gently play a glissando, his fingers gliding from the thickest to the thinnest strings on the smallest harp. Then, with an ornery look, the pace picks up and the Irish hymn "Danny Boy" fills the room.
He's delighted with the harps, the first instrument he ever crafted, and plans to make more to sell if there's an interest.
As a lifelong artist, building the harps reinforced a theory he already knew. Each handcrafted piece of art is unique.
"In the beginning I was trying to make a perfect harp," he says. "But as I went along, I realized it doesn't exist."