Monday, February 12th, 2007
Celina brings home three league champions on the mats
Gray wins second career WBL title; Mabry lone champion for St. Marys
By Gary R. Rasberry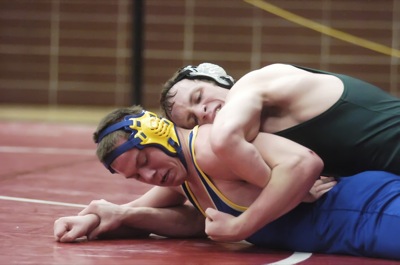 FORT SHAWNEE - For the Celina wrestling team, it was one of those days that will stay in the memory banks for a long time.
For St. Marys, however, the day was one of what could have been.
The MatDogs brought home three Western Buckeye League champions from the league tournament held at Shawnee's Lappin Gymnasium, finishing a respectable third in the tournament to go with a second-place effort in league duals.
Winning the tournament for the second straight year was Elida, as Kevin Bowers' squad scored 1961/2 points, ahead of Van Wert's 1731/2 points.
However, the Cougars, 9-0 in league duals this season, captured the overall WBL title and the championship trophy and coach Jerry Ramsey took home the Coach of the Year award.
St. Marys had high hopes of bringing home several titles, but problems early resulted in just one Roughrider bringing home a championship.
And it wasn't the wrestler everyone expected.
Josh Cisco, 26-0 on the season and the hands-down favorite to repeat at 112 pounds, didn't even suit up after failing to make weight at the weigh-in that morning. That meant the division was up for grabs as all Cisco could do is watch from the stands and root for teammates.
St. Marys head coach Larry Gruber didn't have much to say.
"It's kind of hard to say much of anything," said the veteran Roughrider coach. "If you don't make weight, you don't wrestle."
Daryl Mabry took up the mantle of St. Marys, as the senior captured the 140-pound championship for his first WBL medal, helping the Roughriders, 6-3 in the regular season dual-meet slate, finished eighth in the tournament.
Celina had no problems with weights as nine of its 14 wrestlers were in line for top-four finishes as the championship and consolation finals were wrestled 81/2 hours after matches got underway on Saturday morning.
Senior Nick Gray, winner at 130 pounds last season, was the favorite to win at 135 this season. His opponent was his foe in the final last year, Elida's Jaden Overholt.
Overholt got the opening takedown, but Gray managed to get a reversal to tie the match at 2-all after the first period.
After a scoreless second, Gray chose down to start the third and worked to get away from Overholt, finally getting the escape point. Overholt worked hard to shoot in and try and takedown Gray, but the senior raised his record to 38-2 on the season by holding off and earning his second WBL title.
"Every time we've wrestled, it's been a battle," said Gray, who has two titles and two runner-ups in his career. "I knew it was going to be a battle. Even when I was up one point, I didn't feel comfortable. He wanted it really bad. We're both seniors. ... It feels pretty good."
The other two Celina titles were pleasant surprises as Jordan Davis and Steven Stoker were able to bring home the top prize for the MatDogs.
Davis, at 152 pounds, had to get through the top seeds just to make the final. First he faced top-seed Kyler Washam of Shawnee in the championship semifinals, where Davis got through with a 4-1 win.
In the championship bout, against second-seeded Craig Hirschy (Van Wert), Davis trailed 2-0 after the first period, but got a reverse and two back points to lead 4-2 going into the final period. With Hirschy down to start the third, Davis tied him up and got the full three points for a near fall, then held on to capture the WBL title with a 7-2 win.
"Great," said Davis' feeling after the bout. "I just kept going and tried my hardest."
Stoker's trip to the final was an interesting journey. Facing top-seed Cody Wittkamp of Elida in the semis, Stoke battled to force a 3-all tie after six minutes. In the overtime, Wittkamp was warned about head-butting, and after another episode, the official signaled a technical violation and awarded Stoker a point, ending the bout and sending Stoker to the finals against Van Wert's Adam Custer.
"I didn't want to win like that," said Stoker, "But I'll take it."
After two scoreless periods, Stoker was in the up spot to start the third. Immediately, Stoker put Custer's back down to earn two back points. Later, the referee warned Stoker for passivity, or stalling, so Stoker kept busy to keep the official happy and the Celina fans even happier in the 2-0 win.
"I gave my all," said Stoker. "I left it all on the mat like coach says. I was worried about (getting another stalling call), but once I got on top, I kept moving."
The chance for a MatDog grand slam of titles ended at 215 in a great contest between Celina's Mitch Miracle and Van Wert's Austin McIntosh. Miracle led 1-0 after two periods thanks to an escape. In the third, it was McIntosh getting the escape early to tie things up. With 26 seconds left, McIntosh got the takedown to lead 3-1.
Miracle worked for several seconds to find a way out and got a reversal with eight seconds left to tie it up at 3-all. Just when the thought of overtime began to spring up, McIntosh pulled out a spectacular move to escape with two seconds left to get the 4-3 win.
Celina also had success in third-place matches. R.J. Baskett continued a fine season in beating Wapakoneta's Tyler Kennedy in the 103 consolation. Tylor Thees picked up third at 119, pinning Josh Beemer of Bath with six seconds left in the bout.
Alex Dues picked up third place at 145 pounds after suffering a controversial loss in the semis against Elida's Andrew Leis. Dues put Leis to the mat during their bout and Leis did not get up as it was argued whether Dues used an illegal move. Despite protests that the move was legal and that Leis was milking the injury, the match was awarded to Leis by default.
Dues got some justice in beating Shawnee's Jay Carter via pin in 1:53 as Leis got beat by Van Wert's Brad Dettrow, who was cheered by a number of fans from other schools, via major decision 12-4.
Earning fourth-place honors for Celina were Cody Doner, who lost 3-1 to Shawnee's Ryan Kinle in the 130-pound consolation, and Tyler Temple at 160 pounds, losing 5-1 to Wapak;s Kenneth Long in the consolation final.
Celina coach Tim Doner was happy with the all-around day.
"We had a real good final," said the second-year coach. "Everybody wrestled good in the finals and, for the most part, they're still a pretty young team (11 of the 14 Celina wrestlers are underclassmen)."
Mabry was the Roughriders' only hope for a title after Cisco could not wrestle. Facing Ryan Rider of Shawnee in the final, Mabry had a strong match, winning 6-1 to claim the title.
"It's an honor," said Mabry.
"That's the first medal he's received in the league," said Gruber. "It's a long time coming."
St. Marys brought home two third-place efforts as well. Paul Lauth needed overtime to beat Ben Roop of Van Wert 2-1 in the 171-pound consolation. After a 1-all regulation and overtime, Lauth chose down in the sudden-death format, scoring an escape to go up 1-0. Roop needed to score in his chance to force a tiebreaker, but Lauth clamped down to held on for the win.
Nathan Brown took the third-place medal at 215 pounds despite trailing 5-0 in the first period when Van Wert's Zach Thomas got a takedown and scored three back points, nearly pinning Brown.
Brown recovered to score the pin in 3:51.
Celina heads to Toledo Rogers on Friday to start Division I sectional action while St. Marys will take part in the Division II sectional at Fostoria.