Monday, February 12th, 2007
Iron chefs mix it up in Versailles
By Janie Southard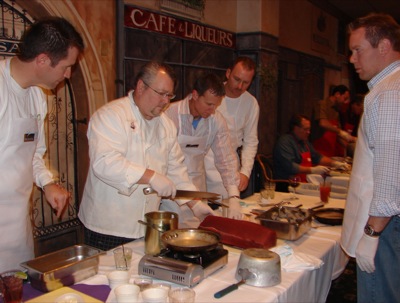 VERSAILLES - Gentlemen, draw your knives ... and so began the Iron Chef competition among six teams of Midmark sales reps from across the United States and Canada at The Inn at Versailles.
Under the sometimes-guidance of Michael Delligatta, The Inn's executive chef, the dental equipment sales reps got busy chopping, slicing and otherwise preparing an assigned course for 40 people Sunday evening.
Well, except for Mark Soper of Buffalo, N.Y., who was grossed out early by the smell of gorgonzola cheese and thereafter devoted time to a harassment tour throughout the room of busy would-be chefs.
"I can't get the smell of that cheese off my hands," said Soper, a member of the salad team. On another topic, he commented that in Buffalo a mere 9 inches of snow, as is expected here Tuesday, would not even merit plowing. "We just drive over it," he puffed.
The determination of which team would prepare which course was made with knives representing a different course from appetizer to dessert.
"We believe the competition will be a good team-building event during our weeklong national sales meeting," said Susan Kaiser, public relations manager for Midmark, which is an international supplier of health care products. Delligatta agreed saying this event is something The Inn is prepared to offer other area meetings and conferences.
This competition was loosely based on Food Network's show "Iron Chef," which provides competing chefs with a common ingredient from which to prepare at least five dishes for judging.
A central table displayed a huge array of ingredients such as baby Brussels sprouts both green and purple, huge tomatoes, eggplant, zucchini, various pastas, four varieties of mushrooms, sea scallops, shrimp, chicken, steak, fresh herbs, spices, a $250 filet of Ahi tuna, juniper berries and, of course, the Soper Special gorgonzola.
The appetizer group took over the seafood including the tuna - the cutting of which Delligatta demonstrated. At the end of the appetizer area, a Dallas rep was perched talking on a cell phone to his wife back home getting tips on what to do next.
"No one said there was a rule making it illegal to call for help," the appetizer squad said.
Meanwhile, at the vegetable course table, there were several thumbs up during the evening's chopping of several pounds of garlic, onions, eggplant and zucchini. No, it wasn't a sign of approval but rather a call for first aid and bandages as more than one guy's fingers got nicked.
In his opening remarks, Delligatta commented that a main focus would be to keep the amateur chefs from bodily harm. "And, of course, we don't want them to catch on fire," the executive chef said alluding to the butane burners on all six preparation tables.
At the end of the competition, judges determined winners based on creativity, difficulty and flavor.
"Honestly, all the dishes were really good. Truly. We had a hard time deciding," said Chrissy Treon, promotions coordinator for Midmark's dental division and one of the judges.
First place went to the team who prepared the beef tenderloin stuffed with sauteed shrimp under a hollandaise sauce. Second place was for creamy mushroom onion soup; and third went to the flaming Bananas Foster a la Kenny Schwing of California.
Unfortunately, there was no prize for gorgonzola handlers.