Tuesday, February 13th, 2007
Oh deer
Deer leaves rack behind
By Margie Wuebker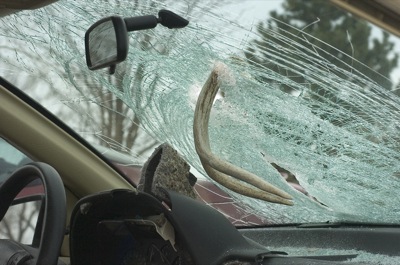 Doug Billerman knows all about deer accidents.
As an insurance adjuster with Celina Insurance Group, he has handled more accidents involving the swift-moving critters than you can shake an antler at.
The 32-year-old Billerman, a resident of Maria Stein, became a statistic Sunday night when he struck a buck while driving southbound on U.S. 127. The 9:12 p.m. accident occurred just south of state Route 703.
"It came out of nowhere," Billerman told The Daily Standard. "There was nothing I could do."
Impact threw the animal onto the hood. Part of its six-point rack crashed through the windshield and tore into the dashboard.
A shower of glass shards pelted Billerman with dozens embedding themselves in his face and hands. Others coated his hair like a prickly cap. The mirror from the passenger-side door flew into the passenger compartment and hit his right arm. A heavy winter coat absorbed most of the blow.
Billerman refused treatment for minor injuries, but later spent considerable time picking glass from his face and hands.
The startled animal scrambled from the car hood leaving behind half its rack and fled the scene before a Mercer County Sheriff's deputy arrived.
"The deer was not located," Billerman said. "It had to have a nasty leg injury although there was no blood on my car."
Ohio Department of Natural Resources personnel also responded to the scene. They explained to the shaken driver that injured deer often run away searching for a quiet place to lie down and die.
Billerman has seen deer grazing in fields or standing close to the road on numerous occasions, but this marks the first time one has crossed his path.
"I've heard stories from people who hit deer," he said. "I now understand the helpless feeling they encountered. Driving along at 55 miles per hour and suddenly an animal appears in the headlights. There is absolutely nothing you can do but hold on and hope for the best."
His 1994 Saturn suffered disabling damage and was left at a nearby home. Fortunately, another insurance adjuster will handle the claim.