Tuesday, February 13th, 2007
Celina girls ride rollar coaster to victory
By Gary R. Rasberry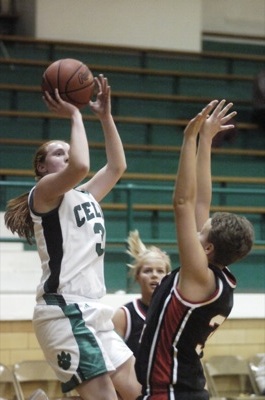 With both teams losing a game due to cancellation at some point during the season, Celina and Fort Loramie got together on Monday night at the Fieldhouse for a non-league matchup.
In a game that had plenty of twists throughout, Celina recovered from a rollar coaster second half to beat the Redskins 55-50 to even the Bulldogs' record on the season at 9-9.
Fort Loramie, a state semifinalist last season, ends the regular season at 9-11 and opens tournament play on Saturday against Triad at Sidney.
After shooting a blistering 54.5 percent shooting performance from the field in the first half and leading 32-21 at halftime, Celina, which was without Amy Harner due to an injury suffered in the Defiance game, looked poised to put the game out of reach in the early stretches of the third quarter.
However, the Bulldogs lost sight of Redskin senior Deanna Ratermann, who could not miss in the third quarter, making all five of her shots, including four three-pointers.
The Bulldogs, meanwhile, hit a cold spell shooting, getting a bucket from Betsy Hone to go up 40-32 with 1:57 left in the quarter and not scoring until the 5:08 mark of the fourth quarter. In the final 1:33, Ratermann scored eight points, getting a two-pointer with four seconds left to tie the game for the first time since the first quarter.
"We lost focus on her and she got hot at the same time," said Celina coach Brian Stetler. "She did some damage in the third quarter. No doubt about it. That brought them back into the game."
"She was on fire," said Fort Loramie coach Carla Siegel. "Obviously, we were running plays for her. The girls did a good job finding her and getting her the ball."
With Celina putting more pressure on Ratermann, that left Bethany Hoelscher open inside and the 5-11 sophomore scored five points in the opening two minutes of the fourth quarter to put Loramie up 45-40.
Then, back came Celina. Cenzie Yoder scored with 5:08 left to get Celina within three and Liz Homan followed with a bucket while getting fouled and made the made free throw with 4 1/2 to go tying the game.
Hone followed with a runner with four minutes left to put Celina up for good at 47-45.
The Redskins, in the meantime, went cold, going scoreless for over 3 1/2 minutes, not scoring again until Kelsea Otis netted a deuce with 57 seconds left to make it 52-47.
"We imploded. That's the word I use," said Siegel. "Once we took that lead, they took a time out and (Stetler's) kids came out more aggressive. We didn't take care of the ball, forced turnovers and took some shots we shouldn't have taken. ... A little bit of everything."
"Not happy with the way we played in the third quarter, but I was positive that we came back and got the win, though," said Stetler.
Both teams shot well in the game. Fort Loramie was 20-of-35 from the field (57.1 percent) while Celina still was over 50 percent despite the second-half cold spell, hitting 20-of-38 (52.6 percent).
Both coaches agreed that the game was a good one to pick up.
"This is a good game to lead us into tournament," said Siegel. "I love the atmosphere of this gym I thought we played hard and hopefully it will carry into tournament."
"Fort Loramie (is) always going to play you hard," said Stetler. "They're well-coached and fundamentally sound. Quite frankly, this is probably a better game for us to play than it was the other game we were going to play (Bellefontaine). It's good to get the win."
Hone paced the Bulldogs with 20 points and Yoder added 13 with Homan scoring 10.
Ratermann led the Redskins with 19 points, Hoelscher added 11 and Otis netted nine.
Celina is slated to play Lima Senior at the Fieldhouse tonight. Should the game be postponed due to the impending nasty weather, the game will be moved to Thursday. Celina also will make up its postponed game with Fort Recovery on Saturday with a 1 p.m. jayvee start.