Wednesday, February 14th, 2007
Blizzard buries county
By Timothy Cox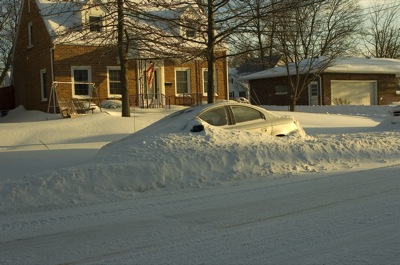 The Grand Lake area remained paralyzed this morning by Tuesday's blizzard that dumped up to a foot of snow and sent winds whipping and temperatures plunging overnight.
Many area businesses and government offices remained closed this morning, along with all area schools. Most county roads and city side streets remain impassable, and Mercer County remains under a Level 2 snow emergency.
The National Weather Service office in Wilmington recorded 10 inches of snow in this area through late last night. Those reports do not include another 1-3 inches of snow that fell overnight, meteorologist Allen Randall told The Daily Standard this morning.
The local area took the brunt of the snow, although the entire state felt the storm's fury to some degree, Randall said. A long swath from West Central Ohio through the Cleveland area picked up between 10 and 17 inches of snow, he said.
Dennis Howick, local weather forecaster, recorded 11 inches of snow at his rural Celina farm. Winds gusted to 42 miles per hour overnight, Howick said.
Snow amounts ranged between 6 and 9 inches in the middle part of the state, and even less in the southern fringe of Ohio, Randall said. Some areas near Wilmington and Cincinnati also had significant, damaging ice accumulations, he said.
"This was a big one; a pretty rare storm for Ohio," Randall said.
A winter weather advisory was to remain in effect through this morning. A wind chill advisory is in effect tonight as cold temperatures and a sharp wind will drive the wind chill to 15 below zero, Randall said.
Windy conditions and possible snow showers today likely will hinder state, county and municipal road crews. Sheriff Jeff Grey declared a Level 3 snow emergency late Tuesday and overnight prohibiting non-emergency travel and subjecting violators to arrest.
By mid-morning, road conditions had improved and Grey lowered the snow emergency to a Level 2. State routes and main municipal arteries were passable, although Grey warned that some county and township roads remain completely impassable.
Auglaize County Sheriff Al Solomon does not use the snow emergency system. Solomon instead widely publicizes road conditions and advises residents to use extreme caution when traveling.
Neither countys' sheriff's office reported any major problems overnight due to the storm. A Mercer County spokeswoman said residents seemed to heed Grey's warning and stayed off the roads, giving county crews a chance to battle the storm.
Celina Police Chief Dave Slusser urged residents to "consider abandoning travel plans" through early today. High winds and snow made many city side streets impassable overnight, he said. Snow plow crews will not get to some side streets until they are able to clear major thoroughfares, Slusser said in a news release. Celina officials also advised city residents to move vehicles off the street to assist with clearing roads.
Dayton Power & Light Co. and Midwest Electric Co. reported no widespread outages due to the storm. Heavy snow generally does not cause many power problems, Midwest public relations spokesman Matt Berry said.
Wanda Dicke, Mercer County's emergency management director, said county residents seemed prepared for the storm and have generally heeded warnings not to travel.
"It deteriorated very fast yesterday and it's pretty bad this morning," Dicke said. "But people had plenty of warning about this storm and people really got prepared, which is what we want them to do."
The Celina Fire Department has a snowmobile and sled on hand in case of an emergency that might require the special transportation, Dicke said.
While the snow has stopped, the weather will continue to pose challenges during the next few days, the National Weather Service's Randall said. Cold, windy conditions will prevail through the rest of the week, including overnight lows near zero. By this weekend, another snowfall could be on tap, he said.
The area could pick up another 1 to 3 inches of snow from the next storm.
"It's a fast-moving, clipper-type system, so it won't be like this last storm," Randall said. "But the probability is there for a couple of more inches of snow."