Friday, February 2nd, 2007
Celina wrestling splits two, finishes WBL 8-1
By Gary R. Rasberry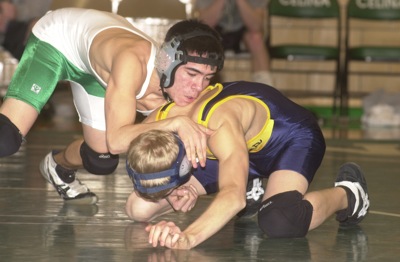 With the Western Buckeye League meet coming up next week, the Celina wrestling team started its final tuneup with a pair of dual matches as part of a four-team get together at the Fieldhouse on Thursday.
The first match saw the MatDogs wrap up an 8-1 WBL dual-match season with a 63-6 win over Ottawa-Glandorf. In the second match, Celina faced a tough Indian Lake squad and the Lakers dominated with a 55-21 win to give the MatDogs a split night.
Celina coach Tim Doner was happy to wrap up the WBL dual season with a big win over the Titans.
"Pretty good way to go out in that part of it," said Doner. "We just have to wait for the tournament now."
The Titans lost their first two contested matches at 145 and 160 pounds - Celina won on a void at 152 - before the MatDogs used weight voids by the Titans and solid bouts to pile up the points. Austin Trisel, R.J. Baskett, Tylor Thees, Nick Gray and Josh Davis each scored pinfall wins.
Against Indian Lake, the MatDogs had a rough time, although one bout proved to be a classic when Nick Gray took on 2006 state-qualifier T.J. Chappelear. After three periods, the two were tied at 2-all and following a scoreless overtime, the two took part in the new sudden-death 30-second overtime format.
Finally, after the third 30-second overtime period, Gray was able to keep Chappelear from escaping to post a 3-2 overtime win.
"That was the first time we've seen it come down to the new format," said Doner. "On the last flip, whatever (position) you choose, you have to score from (that spot). A different twist (before, only one 30-second period was used)."
Thees scored the only other contested bout points for Celina, picking up his second pinfall win of the night.
Now Celina hosts its 18th annual Lions Invitational at the Fieldhouse on Saturday.
"This was a good tuneup," said Doner. "Hopefully, it's a wakeup call."
The Lions Invite is an eight-team tournament, which will include the Bulldogs along with Coldwater, Versailles, Port Clinton, Ayersville, Greenville, Fremont Ross and last year's champ Toledo St. John's. Wrestling begins at 9:30 a.m. with the finals scheduled to start around 3:30 p.m.