Tuesday, February 27th, 2007
Celina father goes to Supreme Court
By Shelley Grieshop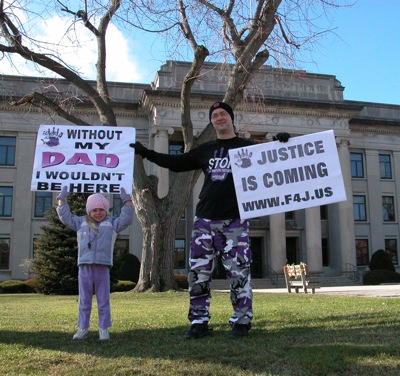 A local father has taken his case from Mercer County to the Ohio Supreme Court to toughen laws that allow judges to modify parental rights in child custody cases.
Paul Fisher of Celina, an unmarried father, says he is asking the highest court in the state to protect his constitutional right to equally parent his daughter, 4-year-old Demetra, and clarify laws that he says diminish his rights as a parent.
Fisher, 29, currently gets visitation with his daughter but a court action nearly two years ago stripped away previous rights he held to make major decisions in her life.
If Fisher is successful, his Supreme Court case will set precedent for all Ohio parents seeking an equal role in their children's lives. An equal playing field in court is necessary to provide stability for children caught in custody disputes, Fisher and his supporters say.
"One way or another this case helps kids all over Ohio, even if it only raises awareness of the actions of family courts," says Fisher, an English and business student at The Ohio State University, Lima, and a part-time technical consultant at The Daily Standard. "I want to force judges to treat all parents as equals."
Fisher's story begins after the birth of his daughter in October 2002. He and the child's mother, Emma Hasenjager of Celina, never married and initially entered into a court-ordered agreement establishing Hasenjager as the residential parent and legal custodian. Parenting time was split equally between the two.
Ten months later Fisher sought the same rights to Demetra that Hasenjager held, and the local court subsequently granted that request in a shared parenting agreement. Then, in January 2005, Fisher filed for full custody of his daughter when he became concerned for her well-being, alleging Hasenjager was an "unfit mother." One month later, Hasenjager filed the same court motion.
Following a trial in March 2005, Mercer County Probate and Juvenile Court Judge Mary Pat Zitter granted Hasenjager sole residential parent and legal custodian status over Demetra and terminated Fisher's status of the same. Fisher still has visitation rights, but no longer has any say in major decisions involving his daughter, such as a surgery or where she lives.
Zitter, in making her decision in the case, legally chose a subsection of the law that allows a custody change simply based on the judge's view that it is in the best interest of the child. There does not have to be any proof that something occurred that could be harmful to the child.
Douglas Dougherty, Fisher's attorney in the pending Supreme Court case, told The Daily Standard there are two sections of the Ohio Revised Code (ORC) that give judges the power to modify shared parenting plans. One section requires judges to show evidence that any change is in the best interest of the child, who may be at risk of being harmed; the other section does not require any proof.
Most judges choose the easier road, Dougherty said.
"I think (judges) ought to have to jump over a pretty high hurdle before taking away a parent's right to their child," he said.
He is asking the Supreme Court to clarify the law on how a judge can modify custody orders for children.
Dougherty said the easy path gives parties the green light to file frivolous motions to change shared parenting terms. That concept makes courts a revolving door for hostility between parties and leaves children without stability in their lives when schedules and environments constantly change, Dougherty says.
"The law should allow modification of orders when really needed, not for minor petty reasons," he adds.
Before appealing to the Supreme Court, Fisher's case was rejected by the Third District Court, which ruled the local court acted properly in its decision.
Hasenjager's attorney, Tom Luth of Celina, recently submitted his reply to the Supreme Court case. Fisher has the option to respond to Luth's reply, then both parties can offer oral argument before the justices or waive that opportunity. A decision from the justices likely will be handed down two to four months after oral arguments, Dougherty said.
Luth said the Supreme Court case is not about either party being fit parents but a "technical issue" about the law. He contends his client is a good mother and feels the current status of the shared parenting plan between Fisher and Hasenjager is fair to both, despite the fact that Hasenjager has sole custody. Currently, Demetra spends nearly equal time with both parents.
Even if the Supreme Court justices agree with Fisher's argument, he may not receive the equal parenting order he seeks. His case, which originated in Mercer County, would be referred back to the local judge for review and judgment.
Fisher, a certified trained facilitator for the National Fatherhood Initiative, is passionate about his role in his daughter's life. Fighting for the rights he feels he's being denied has gotten him thrown in jail and his driver's license suspended. He has attorney bills he's not sure how he'll pay, but he persists for Demetra, he says.
Don Hubin, a professor and chair of the philosophy department at The Ohio State University in Columbus and a supporter of fathers' rights, had this to say about the pending Supreme Court case:
"If Paul loses this case, it will be a blow to fathers and children it will directly affect only a relatively small number of fathers and children, but it will contribute to a slow move toward a recognition that fathers - functioning as equal partners - are important to their children. They are not to be disposed of easily to fit the convenience of the courts."