Monday, February 5th, 2007
Wabash senior citizen keeps on rolling
By Margie Wuebker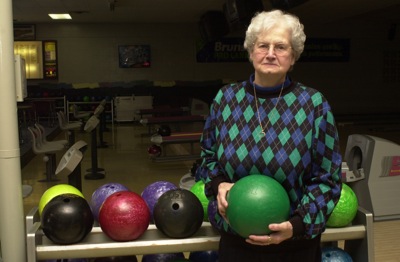 The variegated blue ball rolls noisily along the polished lane toward 10 pins standing at attention. Impact sends them sprawling in all directions as Betty Bollenbacher racks up another strike.
Bollenbacher, who turned 80 on Sunday, has amassed a collection of trophies attesting to her prowess in local, state and national bowling competitions. She rolled several 700 series over the years, but one goal remains elusive.
"One of these days I'm going to roll a perfect game - nothing but strikes - and then I might think about quitting," she says with a smile. "Maybe the real consideration will come when I can no longer lift my 12-pound ball or get up on the alley."
Her interest dates back to the fall of 1971, when she and hubby Marlin "Jiggs" Bollenbacher signed up for Mom and Pop League action at Plaza Bowling Lanes in Celina. Strikes were hard to come by in those days.
"I didn't do very good at first," she recalls with a sigh. "There were a lot of nights when I failed to break a hundred, but I was having fun and getting exercise in the process. After all, that's what really counts."
Veteran bowlers offered advice, which she graciously accepted. However, trial and error along with weekly practice proved to the best teachers. And then there are the occasional nights when nothing seems to work.
"It's not how good or how bad you bowl," she says. "If you have a bad frame, don't worry about it. Focus on the next and do your best."
The Bollenbachers first teamed with a Wapakoneta couple until their son and daughter-in-law, Dave and Rene, came on board. The partnership lasted several decades until Jiggs became ill, and they were replaced by another son and daughter-in-law, Dan and Kathy.
"Bowling was part of our Sunday routine just like going to church and eating out," she says. "Not going that first night was so difficult."
She continued with the Tuesday night women's league, looking forward to enjoyable times "with the girls." The five-member team is now three bowlers strong with Vickie Schell and Carolyn Phillips joining her for the last 20 years or so.
Bollenbacher, the mother of four, grandmother of 10 and great-grandmother of one, has competed in more than 30 state tournaments and missed just one national event since 1983. National competition has taken her from Arizona and Nevada to New Jersey and Connecticut plus numerous states in between. She and the girls will head to Charlotte, N.C., this summer.
She considered putting the bowling equipment away for good after Jiggs entered The Laurels of Shane Hill two years ago. However, a doctor on staff encouraged her to continue the much-needed outlet.
"It has been difficult watching Alzheimer's take its toll," she says. "Yes, Jiggs is still here in body, but he is no longer the man I married. I visit him three times a week and talk about family, people I see, latest news on the homefront, bowling, the weather and anything else that comes to mind. It's pretty much a one-sided conversation. Bowling gives me something to look forward to and takes my mind off other things, if only for a little while."
Even hip replacement surgery failed to sideline her for long. The first procedure took place in September 2005, and she was back by the end of November. Doctors performed the second in June, meaning she was ready to go when league play resumed in the fall. She eventually replaced a recommended lighter ball with her own 12-pounder.
"I carried a 169 to 179 average before the surgeries," she says wistfully. "And now it's down to 150. I would like to bring the numbers up, but at least I can participate. The real bowler in the family is my granddaughter Ashley Bollenbacher, a member of the Ball State University team. Thankfully, her average is much higher than Grandma's."
Bollenbacher, who is retired from CTS of Berne, Ind., does more than rattle bowling pins for enjoyment. She enjoys handiwork like crocheting, counted cross stitch and making angels. She also creates Christmas ornaments for family members, although the ambitious project is now several holidays behind.
Showing no signs of slowing down any time soon, she subscribes wholeheartedly to something a brother-in-law once said - "I'm going to get older, but I'm not going to get old."