Tuesday, March 20th, 2007
New commissioner for Mercer County
Marion Twp. trustee will fill vacancy
By Pat Royse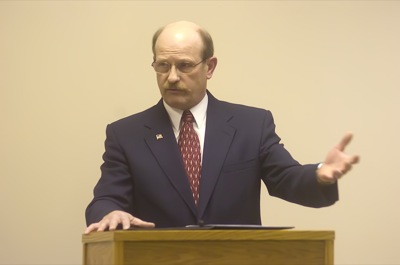 Maria Stein resident John Bruns won a seat on the Mercer County Commission by a majority vote of 26 local GOP Central Committee members on Monday.
The vote by secret ballot followed short presentations by the finalists for the seat vacated last month by Jim Zehringer, now an Ohio House Representative. Zehringer was picked by Ohio House Republicans to fill Keith Faber's District 77 Ohio House seat when Faber was selected to fill the last two years of Ohio Senator Jim Jordan's seat. Jordan was elected to the U. S. House of Representatives.
Bruns will not be formally sworn in until the paperwork is completed, which veteran Commissioner Jerry Laffin said could take two or three weeks. But Laffin said he and Commissioner Bob Nuding would likely appoint Bruns as interim commissioner sometime soon. The interim status will allow decisions to be made when one of the two current commissioners is out of town or at other meetings.
In the first ballot, Bruns beat out other finalists, Dave Kaiser of St. Henry, a retired school math teacher and counselor, and Celina City Council member and local business woman Angela King.
In his five-minute speech Bruns noted a lifetime of community dedication and leadership experience and ended by emphasizing the importance of working together to make Mercer County an even better place.
He told the group he has been a Marion Township Trustee for 21 years, was president of the Mercer County Community Hospital Board of Trustees for 13 years and worked to help it grow. Besides farming, he works as a machinist at Chickasaw Machine and Tool, has been a school bus driver for 17 years and was a poultry farmer for 23 years.
Bruns said he worked to establish the TIF-funded Marion Industrial Park - now with eight businesses. We need to grow, but we can't forget our existing businesses, either, he said.
"We need to keep the hospital strong," he urged. Bruns also supports the proposed new jail for the county, he said. Countywide he said he has worked with Community Development Director Larry Stelzer and is working with the county commission now on the largest sewer project ever considered in the county.
He told the group he has never lost an election since his first local run for office in 1980, but said he won his first township race in 1986 by one vote. He will begin his campaign for the 2008 primary this summer at the festivals, the county fair and by going door to door.
In the question and answer period following the speech, Bruns said that if there is a need to raise funds, the sales tax - such as the one tentatively proposed for a new jail - was the fairest of the taxes. He also promised to cooperate with the city of Celina on projects of mutual interest such as water and sewer districts and said the planned expansion of the airport was "probably a good thing."
"This is the only office I will seek," he assured committee members. "I will listen (to those from all parts of the county)."
He said he believes that working together is the best way to make Mercer County a better place to live. Bruns said he will work to represent the whole county.
In his speech, Kaiser emphasized his family agriculture background and the good qualities of living in Mercer County. He also proposed that the county's Revolving Loan Fund might be used to help first-time home buyers if they would agree to make improvements at the properties.
King emphasized her successes as a council member, as a business owner and as an informal lobbyist for the city. She told the group she would be a good steward for money management in the county.
As with last week's meeting, the brief discussion of the process of selection prior to the speeches went smoothly. The group agreed to a ballot, where members could vote for only one. If there was not a majority of votes (over 50 percent), then a runoff was to be held.
The selection process was run by the local Republican Party's Enhancement Committee, chaired by Bob Hibner of Coldwater.