Tuesday, March 20th, 2007
Fire destroys interior of Celina home
By Margie Wuebker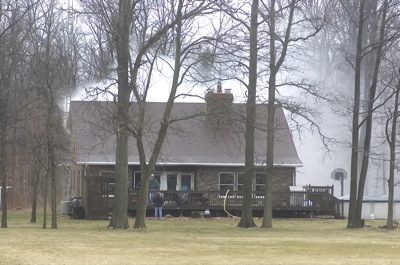 An investigation into the cause of a Monday fire that destroyed a rural Celina home is continuing with a representative from the Ohio Fire Marshal's Office expected to tour the scene this morning.
The home, owned by Brian Bilger, 3433 Carmel Church Road, has been listed as a total loss despite the efforts of the Celina Fire Department and mutual aid from neighboring Chattanooga and Rockford departments.
A passer-by spotted what appeared to be a porch fire and traveled down the long lane to warn residents. The unidentified person quickly realized more than the porch was ablaze.
The blaze apparently went undetected for sometime, as a large section of the great room floor had collapsed into the basement.
Heat and smoke traveled along the cathedral ceiling and up the open stairway to the bedrooms. Heavy damage was reported throughout the two-story brick home, as well as the attached garage. The stairway remained standing but with a definite lean, according to Lt. Jon Schumm.
"Less than 700 gallons of water were needed to put out the blaze," Schumm said. "The fire was getting starved for oxygen at that point."
Firefighters do not know at this point whether the blaze began in the basement or in an area between the first floor and the basement.
The fire department typically requests assistance from the fire marshal's office when damage is extensive. An investigator was expected late this morning. Schumm said no dollar figure has been set as the insurance company is responsible for that.
No one was home at the time. The Bilgers reportedly work in northeastern Ohio and return on the weekends. They reportedly have insurance.
Celina Fire responded with two trucks and 10 men but Schumm did not have vehicle or manpower totals from the other departments. The last truck returned to the station shortly after 3 p.m.
This marks the second major fire Celina has handled since Friday night.