Wednesday, March 21st, 2007
Former TV performer talks to Minster kids about real life choices
By Margie Wuebker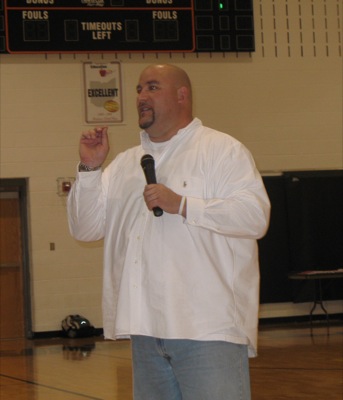 MINSTER - From MTV performer to motivational speaker, Jeff Yalden wants to prepare young people for real life trials - those all-too-familar potholes in the road of life.
Yalden, who describes himself as a "fat, bald, 36-year-old father of two," brought his message to Minster Middle School on Tuesday afternoon.
Sponsored by Committees Advocating Responsible Decisions (CARD) of Auglaize County, Yalden believes in making progress or doing your best every day.
"Every day you wake up is a day filled with opportunity," he told the students in grades 7-12. "What you choose to do with that opportunity is up to you."
As part of his MTV association, Yalden has the opportunity to read letters and essays from young people across the nation. The majority contain a common thread relating to the need for acceptance.
"You don't need to be accepted by the people around you," he said. "You need to accept yourself as you are. Being angry is like peeing in your pants - everybody can see it but only you can feel it."
Yalden, a high school teacher and former coach from Cape Cod, Mass., believes in the importance of always striving to do your best. He illustrates his point with a tall glass and a bottle of water.
"Make today better than yesterday," he said pouring some water into the partially-filled cup. "If you make bad choices, you lose some of what you have worked so hard to achieve."
Yalden tilted the glass slightly allowing water to fall onto a table in a widening pool. He said nothing and the huge gym was bathed in silence. Nobody spoke; nobody twisted on the bleachers.
Laughter quickly filled the gym as he recounted the day his teenage daughter went shopping with friends. The intended lesson in discriminate buying went awry when she ran up more than $900 in charges on a credit card.
He drove her back to the mall to return the purchases that were primarily things she wanted but did not need. Enroute home, the girl claimed to be "kinda" right because she really needed several of the purchases.
"There are no kindas in life," Yalden said. "It's kinda like me starring in Baywatch or someone being kinda pregnant. It don't make sense. You either are or you ain't."
An avid sports enthusiast, Yalden recalled the advice shared by a dying coach during a final speech to his peers. The frail man stressed the importance of laughing (but not at others), taking time to think and never being afraid to show emotion.
"Twenty years ago young people were talking about rights and privileges," he said. "Today we realize that responsibility and obligation give us those rights and privileges. We all want happiness but it is not owed to us. Happiness is created through hard work and compassion."
Yalden also shared personal experiences including his wife's cancer diagnosis and his sister not taking an ill-fated flight.
The diagnosis devastated him. It was as if all the water in the glass of life came splashing out and he lost everything he had worked so hard to achieve, he said.
His sister, Amy Jarrett, was a flight attendant scheduled to work Sept. 11, 2001. A friend and co-worker offered to take the assignment so Jarrett could stay home with her autistic teenage son Patrick.
The friend never returned; she was one of more than 3,000 people who died in a series of terrorist attacks. Her plane was one of two that flew into the World Trade Center. Haunted by overwhelming guilt for letting a friend take her place, Yalden's sister eventually took her own life.
"Take time to think," he said. "Suicide is a permanent solution to a temporary problem."
On a lighter note, Yalden encouraged the audience to surround themselves with supportive and encouraging people and then issued a warning.
"If you want support and encouragement, you have to be willing to give it as well as receive it," he said. "Take responsibility, do what's right, commit to doing your best, have love in your heart and be happy. Remember, there is no cap or limit on the glass of happiness."