Thursday, March 29th, 2007
Pet rescued as fire severely damages area home
By Margie Wuebker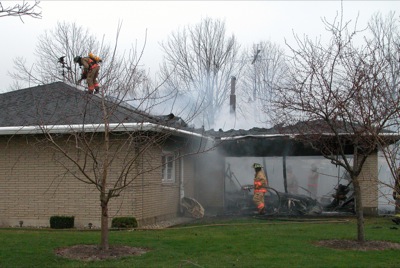 A Coldwater-area home sustained heavy damage Wednesday afternoon when flames destroyed a storage garage and its contents.
Owners Dennis and Jane Zahn, 4773 Coldwater Creek Road, spotted smoke and then flames as they returned to their Butler Township home shortly after 1 p.m. The couple, who had been visiting a daughter, were surprised to find people with cell phones in the front yard.
"Passers-by spotted flames and called 911," Coldwater Assistant Fire Chief Steve Sutter told The Daily Standard. "I believe the owner also placed a call."
Coldwater firefighters had no problem locating the blaze northeast of town and began summoning mutual aid from Celina and Montezuma.
"The guys could see it as they left town," Sutter added. "The flames were shooting up 15 feet or so as I arrived on the scene."
The blaze apparently started near the chimney of a wood-burning stove. The Zahns had stoked the stove given chilly temperatures that morning and left sometime later, according to Sutter.
"We have nothing conclusive at this point," he said. "However, there is nothing else in the immediate area that could have sparked a fire."
Flames destroyed an attached porch/garage area and also damaged the living area adjacent to the kitchen. Heavy heat and smoke damage were reported throughout the home, although no dollar loss has been set.
"At times we had men in the attic, in the house and outside," Sutter said. "There are a lot of charred timbers in the attic alone."
Among the items destroyed in the garage were a two-seater Pontiac Fiero and a motorcycle. The sports car, in particular, was clearly evident amid the debris.
Tragedy was averted when the Zahns freed Sammy, a Yorky-Poo, from the home amid barks and tail-wagging.
The Coldwater department responded with three trucks and 12 firefighters while Celina and Montezuma brought several trucks as well as manpower. A Coldwater ambulance from Mercer County Emergency Services was placed on standby, but was not needed.
Mercer County Emergency Response Volunteers handled traffic near the scene, keeping adjacent roads open for fire personnel.
The final fire unit left the scene around 5:30 p.m. Sutter indicated firefighters remained on the scene to make sure the blaze did not rekindle.
The Zahns reportedly have insurance to cover the loss.