Thursday, March 29th, 2007
Building a castle out of concrete Legos
By William Kincaid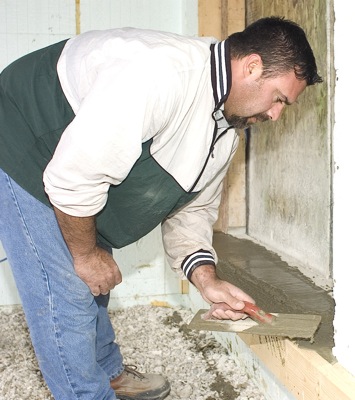 Tracy Hill compares the ongoing construction of her new home to that of stacking Legos. Only these Legos are concrete blocks - eight feet long and 18 inches high.
"This house will be around for hundreds of years," said Wade Schoenberger, a representative from HOLDFAST Technologies LLC. It also saves heating costs.
"It's like a castle," Hill pointed out.
The majority of Celina couple Tracy Hill and Bill Schamp's dream house is being constructed with Insulated Concrete Forms (ICF) - a method of increasing popularity in Ohio because of its energy efficiency, longevity and overall comfort, Schoenberger told the newspaper.
Resistant to wind, fire and sound, Hill believes her self-proclaimed "bunker" will be a formidable structure - one she thinks other local prospective home builders may be interested in instead of traditional stick-framing, which employs wooden walls.
Working with HOLDFAST, Medway and ER Construction, Forest, Tracy and Bill chose to build two-thirds of their new home with ICFS.
"ICFS are lightweight foam forms that interlock to erect the exterior walls of a structure," ER Construction's Web site states. "Concrete is placed into the forms in the same manner as traditional concrete walls. The forms remain intact to provide insulation to the structure."
Both the basement and the first floor of the house are composed of ICF, which Schoenberger said is a double-insulated concrete wall - the origin of the efficiency of the structure.
"This house doesn't settle," Hill said, as she talked about its structural integrity. "This is it."
Schoenberger pointed out that the exterior walls will not twist, allowing for an ideal home for those non-transient owners who want to live in one place for a long time.
The house, according to Schoenberger, is also resistant to to wind (up to 250 miles per hour), fire and sound.
When told by people that tornadoes have never happened in their area, Schoenberger said it only takes one to destroy a home.
"If we have a tornado, it stays," Hill said.
According to the Insulating Concrete Form Association, ICF houses are 8.5 times stronger than wood framed houses.
"As a result," the ICFA states, "ICF walls are more able to withstand severe weather such as hurricanes and tornadoes. Most ICF walls have a two-hour fire rating as opposed to 15 minutes for a comparable wood framed wall."
And ICF home owners enjoy relative tranquility from the external sounds.
"You're not going to hear a combine that is running 300 feet away," Schoenberger said about the house's sound-proof walls, which also block out noise from traffic, airplanes and storms.
He said because there is zero air infiltration and no thermal transfer, ICF homeowners - whether they use electric or gas - will save 50 to 70 percent on their heating and cooling bills.
"It's becoming more popular," Schoenberger said about ICF houses. "This structure makes a lot of sense.
Because of the strength and efficiency of such homes, Schoenberger said owners can also expect reduced insurance costs.