Saturday, March 31st, 2007
Patrolling down memory lane
By Margie Wuebker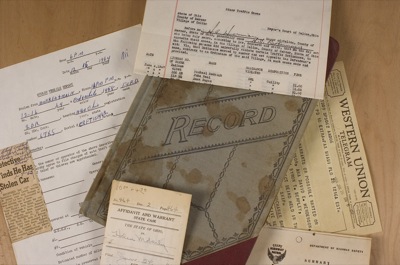 Celina Police Chief Dave Slusser sat in the lobby of the city building surrounded by stacks of boxes containing handwritten logs, parking meter citations and other relics from the past.
A broken water pipe at City Hall led to the discovery of forgotten memorabilia, some of which spent more than 50 years tucked away in attic space between the first and second floors. Fortunately, the papers - many of them darkened with age - escaped damage.
"This is like a treasure hunt," Slusser said, lifting a dusty file encircled with twine. "You never know what you will find."
Former Chief Robert J. Humbert, then a patrolman, attended the 14th annual law enforcement officers training school sponsored by the Ohio Bureau of Criminal Investigation and Identification on Sept. 9-20, 1957.
His mimeographed examination paper bears marks from a red grading pencil and the notation he finished 10th in a class of 54 students. The document signed by Superintendent Hugh L. Liggett describes the officer's performance as "Very fine!"
Humbert, who hired Slusser as a patrolman years later, finished the course with an overall score of 92.8 percent. He received perfect scores in most areas, with the lowest grade being a 60 in narcotics.
"I think his wife will appreciate this," Slusser says. The veteran officer he admired succumbed to a heart attack years ago while on vacation.
Several boxes yielded stacks of parking meter citations secured with rubber bands and assorted speeding tickets written in longhand. One bears the name of a local woman and the date Jan. 24, 1956. An officer spotted her shiny 1955 Studebaker racing along at 70 miles per hour in a 55 mph zone.
Slusser unfolded neatly folded pages detailing mayor's court revenue. Mayor H.A. Herman collected $1 fines for minor traffic offenses with each perpetrator pleading guilty as charged. The receipts for June 1947 totaled $18 with a mere $2 collected in August of that year.
The names of those scheduled to appear at each proceeding were given to authorities with the following directive "You are hereby commanded to take the bodies of the within named persons and have the within named before the honorable mayor forthwith."
A log book provides interesting reading for Slusser and Dispatcher Angie Ewing. On June 26, 1950, someone entered the Rhoades residence in the 400 block of South Elm Street and took a single-barrel shotgun, two boxes of shells, a flashlight, one brown and white checked dress (size 14), brown slacks (size 14), a man's hat and a hunting coat.
Guns, ammunition, tires and money topped the list of items taken most frequently in the '50s, with each report written in longhand. One thief, who struck at the "new school building on East Wayne Street" the night of Aug. 4, 1952, wanted hand tools. He apparently loaded the booty in a wheelbarrow for a quick getaway.
A bill from Consolidated Bottling Co. of Wapakoneta lists purchases the police department made Oct. 27, 1959, namely one case of Pepsi Cola in 8-ounce bottles and one case of Chief, a soft drink bearing the likeness of an Indian chief on the bottle. The $3.50 bill was offset by $1.29 in bottle returns for a balance of $2.21.
The 1954 survey of salaries and working conditions prepared by the Fraternal Order of Police does not list Celina but reports annual salaries in St. Marys as follows: chief, $4,212; captain, $3,952; and patrolman, $3,848. The amounts are based on a 48-hour work week.
Slusser estimated items that must be saved - felony reports and log books - can be condensed into a pair of boxes.
As the task nears completion, Slusser found "a jewel" amid the bundles - a registered letter bearing 28 cents in postage. The envelope, postmarked Jan. 30, 1950, and sent to "The Mayor and Council of the Village of Celina, Celina, Ohio," contains the will of local philanthropist Ed L. Bryson. It directs trustees of his estate to disburse remaining trust funds toward public playgrounds at Mercelina Park and the construction of a public swimming pool that now bears his name. Other bequests include the Masonic Lodge of Celina and the North Grove Cemetery Association for the upkeep of the Bryson family plot and urns thereon.
"Somebody probably wondered what happened to this after all these years," Slusser said, adding it will go to city officials, with the boxes of items that must be kept headed to the department's storage area. "A broken water pipe sure turned up some mighty interesting things."