Saturday, March 31st, 2007
Bonvillian hands Celina first win
Bulldogs win opener at Montgomery Field
By Ryan Hines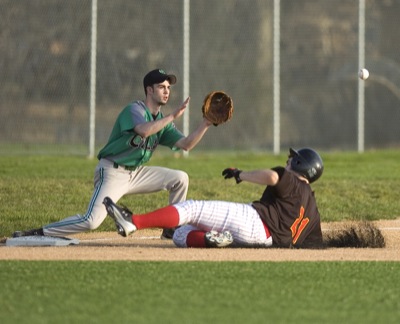 It's safe to stay that Celina junior John Bonvillian feels right at home at Eastview's upgraded ballpark.
Bonvillian hit a pair of home runs, including the game-winner, in leading Celina to its first win of the season, 7-6, in the Bulldogs' home opener at Montgomery Field on Friday night.
"I sure didn't envision that it would take this long to get our first win with the team that I think we have, but it sure feels good to get that first one under our belts," said Celina head coach Drew Braun. "We've been in games to start the season, but we just couldn't get the clutch two-out hit when we needed it. Tonight we got the big hit and it proved to be the game-winner."
The second of Bonvillian's homers broke a 6-6 tie in the sixth inning and capped a huge day for the Bulldogs' second baseman as he went 2-for-4 with three runs scored and four RBI.
"I got a good pitch to hit and I just tried to hit it hard," said Bonvillian about his game-winning home run to left-centerfield. "I made good contact and got it up in the air and got it out. I felt pretty good today swinging the bat and hopefully we can keep the wins coming now because I think that we're starting to come together."
"John really got a hold of two pitches and we needed those runs that he produced for us," said Braun. "He has that ability to pop it out of the park."
New Bremen (0-4) head coach Justin Firks was impressed with the day by Bonvillian.
"I think that he just went up there with an approach at the plate where he was looking for a pitch in a certain area and he made good contact when he got it," said Firks. "You have to give the kid credit, he had a great day."
Bonvillian's big day made a winner out of Bulldogs hurler Jimmy Fishpaw, who also had a strong performance for Celina (1-3). Fishpaw, who caught the first 41/3 innings for Celina starter Jeremy Kerr, threw 22/3 innings in relief allowing two runs on four hits while striking out four.
"We've had some chances to win some of the games that we've lost so far (three of their four losses were by a combined five runs), but we just haven't done enough to get the job done," said Firks. "We're pitching okay and playing pretty good defense, but we just have to get more out of our offense on a consistent basis."
In addition to his catching and pitching duties, Fishpaw was 2-for-2 at the plate with a pair of doubles and two RBI to go along with two walks.
After both teams scored a pair of runs in the first frame, Celina came back with three more in the second frame, on Bonvillian's first homer, to take a 5-3 lead.
Eric Loughridge added an RBI double for Celina in the third inning as the Bulldogs were in control 6-3 before a New Bremen comeback.
New Bremen's Brad Wendel brought the Cardinals to within a run at 6-5 after the DH belted a two-run double in the fifth frame. A Celina error tied the game at 6-6 when the Bulldogs failed to make a routine play.
"I started to think, 'oh no, here we go again,' when we made the error in the top of the sixth that tied the score, but Bonny (Bonvillian) came right back and put us back on top," said Braun.
Celina will look to make it a three-game winning streak when the Bulldogs travel to Greenville for a doubleheader today while New Bremen will look for its first victory today at Indian Lake.