Saturday, April 14th, 2007
Guided by voices toward the future
Parkway High School students attend a fair that could help with career choices
By William Kincaid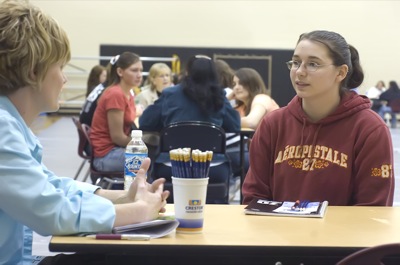 ROCKFORD - Students at Parkway High School were guided by some experienced voices on Friday afternoon, as over a 125 local professionals offered suggestions and advice on that colossal question: "What are you going to do with the rest of your life?"
This was not a typical career fair.
Instead of gathering in groups around a vocational representative, each high school student met with professionals - of their selected interest - on either a one-on-one basis or with a few other classmates.
"A normal job fair is crowded and students group up and tend to be shy about asking questions and learning," Twyla Hays, creator of the even and owner of Brand It Design, Rockford, said in a press release.
Students met with 12 different representatives in 8-minute bursts, asking questions and listening to what each person does and how he or she came to that vocation.
"What education and training is needed?," some students asked. "What is the salary? How many jobs are available? Do I need to take English classes?"
"This way the kids can take the responsibility," Twyla told the newspaper in explaining her new twist on the traditional career fair.
Artists, politicians, administrators, small business owners and many other people from thirteen broad vocational fields in Mercer, Van Wert and Auglaize Counties were situated throughout the high school.
"I wanted to make it an event," Twyla said. "Something the whole community can get involved with ... We have a beautiful new facility, let's use it."
Twyla, who came up with the idea after watching a segment about speed dating on The Today Show, said that beside helping students focus on their future, it is a way to combat "brain drain" - where college graduates feel they have to leave their home area in search of employment.
"We have wonderful people," she said. "We want our kids to know what realistic job opportunities (exist locally). We don't have to send the cream of our crop off. We can keep them here."
Vic Post, a representative from Versa Pak Inc., Celina who was on hand at the event Friday afternoon, said he supports the intermingling of high school students and the local business community.
"I think this is absolutely great," he said. "A great opportunity for kids."
In addition to helping the students, Twyla said the vocational representatives would be able to network between themselves afterwards during a social hour.
She said she hopes it becomes an annual event at Parkway High School. She also mentioned that others have asked if she will bring the event to other schools in the local area.
"I foresee many jobs, internships and careers coming from this event," Robert Thompson, president of the Rockford Area Development Corporation said in a press release. "This is an excellent approach for businesses to bridge the gap between themselves and area high school students."
The event was also sponsored by the Rockford Chamber of Commerce and the Rockford Area Development Corporation.