Saturday, April 14th, 2007
Muhlenkamp delivers game-winning hit for 2-1 Coldwater win
By Ryan Hines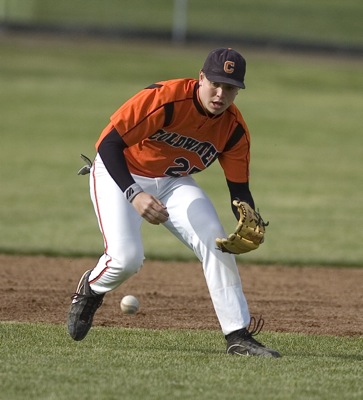 COLDWATER - An eighth-inning game-winning single by Riley Muhlenkamp kept Coldwater undefeated in the Midwest Athletic Conference as the Cavaliers grabbed a 2-1 win over Versailles on Friday night at Veterans Field.
Tied at 1-1 with one out in the eighth, Coldwater's Cory Klenke hustled down the first-base line for an infield single and was then balked over to second base by Versailles relief pitcher Jon Richard. On the next pitch, Muhlenkamp saw a high fastball and ripped it over the rightfielder's head driving in Klenke for the game-winner.
"I was just looking for a pitch in the zone and I got it and put a pretty good swing on it," said Muhlenkamp about his game-winning hit.
"Riley has been struggling a little big of late, but he came up with a huge hit for us today," said Coldwater head coach Brian Harlamert.
The Muhlenkamp clutch hit made a winner out of Coldwater pitcher Sam Slavik, who neared the 100-pitch mark for the second time in four days. Slavik went all eight innings allowing just four hits while piling up a dozen strikeouts.
Harlamert thought Slavik threw his best game of the season thus far.
"Sam has thrown well this year, but this is the best that he's thrown so far and we knew it early on with the way his curveball was breaking," said Harlamert.
Jordan Liette, the starting pitcher for Versailles, got a no-decision despite throwing the first seven innings for the Tigers allowing just five hits while striking out nine. Liette also added a RBI double, driving home Richard, which tied the score for Versailles in the fourth frame.
Coldwater scored its first run of the game in the second inning with help from the bottom of the batting order. Slavik, the six-hole hitter, doubled to right-centerfield and then trotted home on an RBI single from Brad Brunswick.
Slavik and Klenke each had a single and double for the Cavaliers.
Coldwater is back in action again on Monday at Celina while Versailles hosts Fort Loramie today for a doubleheader starting at 11 a.m.