Monday, April 16th, 2007
Local teams enjoy Fifth Third Field
By Gary R. Rasberry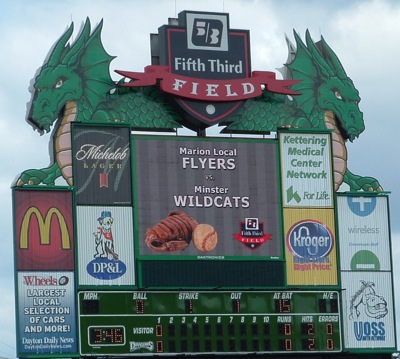 DAYTON - The weather may have been a little cooler than wanted, but the atmosphere was perfect.
Minster and Marion Local took to the field at Fifth Third Field in Dayton to play for the first time at the home stadium for the Single A Dayton Dragons.
It didn't take Minster long to get accustomed to the larger surroundings, as Bob Inskeep threw six innings of four-hit baseball and the Wildcats used a strong second inning to post a 4-1 Midwest Athletic Conference win over the Flyers.
Minster stays perfect at 8-0 on the season and 3-0 in the conference while Marion Local drops to 5-3 overall and 0-2 in the MAC.
While playing in the spacious facility, ranked as one of the best among the minor leagues in many publications, both coaches kept their teams focused on the fact that it was a league contest.
"We would have liked for everyone to play," said Marion coach Greg Bruns. "But with it being a MAC game, (there was) a lot of pressure."
"We wanted to treat it like a MAC game. Marion did as well," said Mike Wiss. "We got the opportunity to get four umpires (MAC veterans Ed Oberlander, John Schoch, Chuck Etzler and Tony Stammen). Those guys should get their name in the paper too. That's a credit to those guys. They're good people."
Minster got all the runs it needed in the second inning. After a flyout by Alex Monnin, Alyx Brandewie singled and went to second on an errant pickoff throw. Brian Mueller walked before Zac Boeke singled with one out to score Brandewie for the first run of the game. Aaron Heitbrink followed with a single of his own to score Brian Mueller and Inskeep added a third straight single to score Boeke, who went to third when rightfielder Troy Luebke bobbled the ball on Heitbrink's hit.
Inskeep didn't have too many worries when the Flyers did reach base. Catcher Andrew Baumer came up with two solid throws to catch Flyer steal attempts while Brandwie added to the strong defensive performance with a diving catch in the fourth that saved a possible extra base hit.
"We did make some nice defensive plays," said Wiss. "On (Marion's) behalf, we put the ball into the air much too often (12 flyouts to the outfield). Bob got into trouble a couple of innings and defense works its way out."
Minster got its final run in the top of the fifth. Eric Bernhold walked and was pulled for pinch-runner Bryan Phlipot. Baumer singled and a wild pitch moved Phlipot to third. Monnin then lofted a deep fly to center to score Phlipot.
Marion avoided the shutout in the bottom of the fifth. Lucas Moeller was hit by Inskeep to start the inning and was pulled for Jason Wolters. Tyler Thobe bunted Wolters to second and Chris Stucke singled him to third. Marcus Moeller struck out as Stucke tried to steal second and the ball got past the defense just far enough to allow Wolters to score.
"Coach (assistant coach Jason Bruns) and I were talking on the way up (back to the dugout) that we played a flawless team," said coach Greg Bruns. "They didn't give us any breaks. Their outfielders made outstanding plays. You can't ask too much more from the guys. They hit the ball on the button quite a few times. It's just the matter of hitting at people. That's the difference of the ballgame.
"We faced a real good pitcher in Inskeep today. He kept us off-balance with his curve ball."
Wiss was happy that his team got used to Fifth Third quickly.
"We talked a little before game (about) making this a park back home.," said Wiss, who played his college ball at the University of Dayton. "There's more room behind you, find out how many steps to the fence and go get it. It's a bigger park, no question. It's a different surroundings with the music playing. I turned to a couple kids in the dugout after a couple of innings and I said 'Now you're to a point where it's just a ballgame.'"
One thing Wiss wanted to point out to his team is to be greatful to get the chance to play at Fifth Third.
"I told the kids, look where you're at. This opportunity doesn't just happen," said Wiss. "There's a lot going behind the scenes. (Having) the opportunity to do this wasn't around a long time ago. There's a lot of parents and family sitting in the stands that didn't have the opportunity. I'm sure there's a lot of people happy that these kids got the opportunity.
Boeke agreed.
"It was awesome," said Boeke, who went 1-for-4. "You get one of these chances in your life. You have to make the most of it. I'm glad we came out the victor.
"It first started on the bus coming by here and seeing the green grass. We haven't seen grass this green all year long. We saw how nice the brick dust was. It's such a nice stadium. It's an honor to play here.
New Bremen 6, Fort Loramie 0
The Cardinals and Redskins played under the lights at Fifth Third Field.
New Bremen may be looking to play more games under the lights as Brad Wendel held Loramie to four hits over seven innings to move the Cardinals to 3-5 on the season.
The Cardinals scored single runs in the first and third innings before putting the game in hand with a three-run fourth frame. New Bremen played errorless baseball while the Redskins committed two errors.
Brian Garman and Anthony Moeder each had doubles for the Cardinals.

LINESCORE
New Bremen 101 310 0 - 6 8 0
Fort Loramie 000 000 0 - 0 4 2
WP - Wendel.
LP - Goldschmidt.
2B - NB: Garman, Moeder.
Records: New Bremen 3-5, Fort Loramie 7-2.