Wednesday, April 25th, 2007
Not able to locate all cell phones
Mercer, Auglaize law enforcement needs equipment for GPS system
By Shelley Grieshop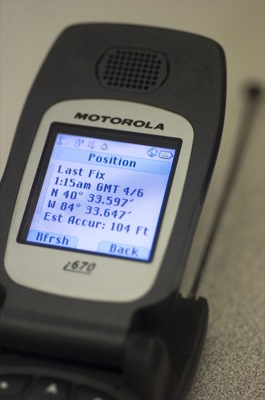 Cell phones have become a lifeline for people in emergency situations but their potential remains limited locally as authorities await technology updates.
911 systems in both Mercer and Auglaize counties do not have the equipment or software mapping programs needed to use Global Positioning System (GPS) technology, which can track cell phones and their owners - within feet in some cases - in emergencies.
Shelby County officials were helpless to accurately locate murder victim Victoria Eilerman of Fort Loramie on April 5 when she used her TracFone cellular phone to call 911 and report she'd been abducted, raped and was riding in the trunk of a car driven by her kidnapper. Her TracFone did not have GPS.
Shelby County, like the majority of other counties in Ohio, is awaiting the implementation of GPS/Enhanced 911 (E911) technology to help locate cell phones.
"Only 12 of 88 counties in Ohio can pinpoint the exact location of cell phone calls right now," said Mercer County 911 Coordinator Monte Diegel, who also is the president of the Ohio chapter of the National Emergency Number Association (NENA).
Because of government standards, nearly all cell phones sold since 2003 are GPS-capable, meaning there is a chip set in the handset to help locate it with GPS technology. That technology includes a complicated triangular tracking that bounces airwaves off cell phone towers and satellites.
Most cell phone providers, including two local ones contacted by The Daily Standard, say their phones and services are "E911 ready" but the technology only works if the county in which it's operating has the upgraded equipment to read and use the location data.
Cell phones left on are constantly seeking a signal from cell phone towers and that information is available to service providers, who then can tell which cell tower was "pinged" or sought out most recently by a particular phone, according to Verizon officials. Often that information provides a location that extends more than a 10-mile radius.
Sales Manager Jonathan Williams of RG Sound & Communication of Celina said Nextell phones operate different than most. GPS is available and always activated on Nextell phones, allowing owners and/or family members, for a fee, to access the phone's account online and locate the phone within about 100 feet, Williams said.
"Of course, like in all cases, the phone has to be on and must have a good signal," Williams said.
Owners of most other cell phones must pay a monthly fee of about $20 for the same service, which involves physically pre-programming the phone, he added. Very few people request it, he said.
"I think a lot of people think the counties (911 centers) around here have the GPS ability, but they don't," Williams said.
Funding is part of the problem delaying the implementation of E911 technology for local use by dispatchers. Currently, through government regulations, a 32-cent stipend is collected by the county from each wireless phone bill paid by county residents. Mercer County has accrued about $100,000 to help finance and maintain its future E911 system.
In Auglaize County, 911 Coordinator Steve Stienecker said space is an issue, too.
"We need space, which will involve some remodeling for the computers and for the mapping software," he said.
There are some grant monies available but counties have a lot of needs each year, and with state funding cuts, the E911 project must wait its turn in line, Stienecker said.
Neighboring Van Wert County recently began using the system, and Diegel and Sheriff Jeff Grey got a firsthand look at the technology and its capabilities during a visit on Tuesday.
"We did four test calls on our way up there and three out of four were amazingly close," Diegel said, adding one was within a few yards.
The Federal Communications Commission (FCC) developed wireless E911 rules in the '90s to make sure 911 calls and latitude/longitude coordinates can get to dispatchers. Most cell phone companies have implemented these rules; now it is up to emergency centers to have the equipment to read the data.
When the system is implemented, cell phone service providers will charge each county a tariff for the location service they will provide - another financial burden on counties and taxpayers.
Although the E911 technology greatly will aid emergency personnel in locating wireless phone subscribers, local 911 officials remind the public it won't be a foolproof system because of signal strengths. They advise cell users to check with their service providers for information on the GPS capabilities of their phones.