Wednesday, April 25th, 2007
Celina girls, Shawnee boys take trimeet team wins
By Gary R. Rasberry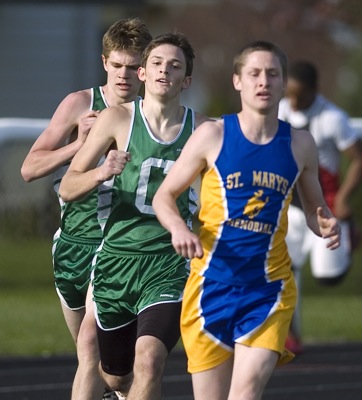 With the Western Buckeye League meet just over two weeks away, Celina hosted a pair of other top teams in the league for a trimeet.
The Celina women came away from the meet with a convincing win with 94 points while St. Marys was a distant second with 47 with Shawnee with 34.
On the boys side, Shawnee continued to make their push for the league title in scoring 821/2 points. St. Marys took second with 521/2 and Celina finished with 40.
The Celina boys had trouble scoring including four events in which the Bulldogs were unable to get any of the 11 possible points. Shawnee scored at least three points in each event.
"Shawnee and Defiance are going to be the favorites," said Celina coach Dan Otten, about the upcoming WBL meet. "Shawnee has a lot of events covered with a lot of good people. They got one of the best distance runners in the league and the best sprinters."
The Indians dominated in a number of areas, especially in the distance events. Tom Scott paced Shawnee with wins in the 1,600 and 3,200 runs. Shawnee also won both throwing events.
St. Marys came up with some big wins as well. Scott Kinkley edged out teammate Caleb Ibarra to win the high jump. St. Marys' Alex Spencer cleared 12 feet 1/2 inch to edge out Celina's Luke Bonvillian, who came up with a personal best of 12-0 for second in the pole vault. Marcus Sheipline added a win in the 100 dash for the Roughriders.
Celina got its usual staple of points from Kelby Rosengarten, who took firsts in the 110 and 300 hurdles. Blake Moran also grabbed first in the long jump, edging out Rosengarten by 43/4 inches at 17-10.
"From a good end, we had some decent performances," said Otten. "Luke Bonvillian had a personal best in the pole vault. We had guys in the 3,200 relay that are just coming off injuries that ran really well in their 800. ... We're trying to get healthy."
The Celina girls dominated in winning 14 events on the day. Allison Stammen swept the throwing events for Celina while Cayla Hellwarth won the pole vault - tying the school record of 10 feet in the process - and the 800.
Julie Snyder was also a multi-winner with victories in the high jump and long jump along with teammates Melissa Roth (mile and two mile) and Katie Hague (both hurdle events). Lindsey Schmitmeyer added the 400 to her team's victories.
"Pretty much went as expected," said Otten. "Throwers did a little better today. Julie has just been consistent. Cayla had a great day today. They thought she broke the record at 10-11/2 but they (remeasured) and it was 10 feet.
"Katie Hague had a good day. Karlyn Pease ran the 300 hurdles after not practicing until today. She ran pretty well (finishing second)."
St. Marys won just three events, all in the sprint department. Kaysha Dietz beat out Snyder in both the 100 and 200 dashes and helped the 400 relay to victory.
St. Marys coach Dan Cook was pleased, considering he was missing key personnel due to illness.
"We were missing some good people, which was unfortunate because we wanted to see how we ran against two of the best teams in the league," said Cook. "I was pleased with some of our sprinters. Sheipline in the 100. ... Kaysha in the 100 and 200 was looking good. We have to fine tune some things.
"Pole vault looked good, Alex did a good job for us. We have to do some fine tuning before the WBL."
Celina travels to Bryan on Saturday for the Golden Bear Invitational while St. Marys is off until May 1 when the Roughriders head to Versailles for a trimeet with New Bremen.