Thursday, May 10th, 2007
Indians, Wildcats win sectional crowns
By Gary R. Rasberry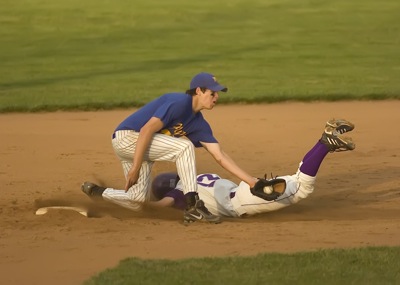 MINSTER - The old cliché about a freshman not playing like a freshman came to light against Marion Local on Wednesday.
Fort Recovery pitcher Greg Kahlig overcame giving up an early run to lead the Indians to their second straight Division IV sectional title with a 4-1 win over the Flyers at Minster's Hanover Street Park in the nightcap of the sectional doubleheader.
The 11-9 Indians head to Coldwater next Wednesday for district play against the winner of the rain-delayed St. John's-Antwerp contest from Crestview. That game, delayed by rain on Wednesday, will be played today.
The host Minster Wildcats started the twinbill off with a 14-2 five-inning win over New Knoxville, the third win against the Rangers this season for the Wildcats. Minster will play the first game of the District semis at Coldwater next Wednesday against the Big Green of Ottoville at 4:15 p.m. with the second game featuring Fort Recovery starting approximately at 6:30 p.m.
Kahlig, who moved from junior varsity and spot varsity pitcher into the ace of the Tribe rotation during the season, gave the Flyers fits. Kahlig struck out seven and did not issue a walk. After giving up a run in the first, Kahlig had a stretch of 15 straight batters retired until Chris Stucke singled with one out in the sixth.
"He gets better as he goes," said Indians coach Aaron Vaughn. "He throws a little harder and his breaking stuff breaks a little more. He only gave up one run and we fought our way back."
"Second half of the year, we started pitching him against better teams. When we got to tournament, we just said 'Hey, we have to go with the guy who has the best numbers right now.' I thought Greg did a great job keeping his composure. He doesn't pitch like a freshman out there."
The first two batters of the game were the only ones that gave Kahlig trouble. Stucke led off the bottom of the first with a single and stole second. Marcus Moeller followed with a single to score Stucke for the 1-0 lead. Moeller and Stucke were a combined 3-of-6 in the game while the rest of the Flyer lineup went 1-for-17.
Stucke also was solid on the mound, keeping the Indians scoreless until the fourth inning. Clint Tobe walked and Toby Metzger tried to bunt, but Stucke got to it and threw to second for the force. Metzger later went all the way to third on an errant pickoff, then scored on Curt Heitkamp's single to tie the game.
The fifth proved to be the clincher for the Indians. Scott Hein led off with an infield single. Bobby Rammel drew a walk on four straight pitches, and after a wild pitch moved the runners up one base, Frank Thien flied to center. Thien's fly did allow a run to score because of the arm of Troy Luebke in rightfield, but Tobe stepped up and drilled the first offering off the wall in left for a double, scoring Hein and Rammel to make it 3-1. Troy Metzger singled in Tobe to get the fourth run.
"I told them to keep looking for signs and that we would be taking a lot of pitches," said Vaughn. "We wanted to make sure we were taking a lot of pitches. ... After we got guys on first and second, they threw one away, then we got a clutch hit from Clint. I thought from there, we kind of rolled."
Kahlig, meanwhile, shut down the Flyers. After hitting Luebke with a pitch in the first, Kahlig retired the next two batters to end the inning and did not allow a baserunner until Stucke's single with an out in the sixth. That quickly became moot as Moeller grounded into a 4-3 double play to end the inning.
"Kahlig really cranked it up and started to hit his stuff," said Marion Local coach Greg Bruns. "Take your hats off to that young boy. He's a young freshman, but he's got a year's experience. It don't really matter at this point (that he's a freshman)."

Minster 14, New Knoxville 2 (5 innings)
Minster, the second-ranked team in the state coaches poll dominated the Rangers in the first two meetings of the season, beating them by a total margin of 49-0.
It didn't take long for the Wildcats to break through, scoring three in the bottom of the first. Bob Inskeep had the big hit with a two-run single, allowing him to break the school record for RBI in a season, previously 40 set in 1988 by Tony Goubeaux.
Ranger starter Caleb Allen settled down in allowing just one run in the second before getting chased in the third after three batters. Minster scored eight times in the inning off three different Ranger pitchers.
Meanwhile, Minster starter Allan Heitbrink was in control, striking out seven of the first nine batters he faced. Heitbrink was perfect through three innings before Jake Lawler singled to start the fourth.
The Rangers finally broke their scoreless skid against the Wildcats when Lawler scored on a RBI double by Bill Ray in the fourth. New Knoxville added a run in the fifth as Heitkamp allowed three more hits before getting out of the jam.
Heitkamp improved to 8-0 with 10 strikeouts and did not walk a batter, keeping his season walk total to just one in 37 innings of work.
Inskeep went 3-for-4 with four RBI and three runs scored while teammate Eric Bernhold went 3-for-3 with three RBI.
Lawler was 2-for-3 for the Rangers, who drop to 4-14.
Minster coach Mike Wiss was extremely happy for his 21-0 team, considering it's the first time in three years that the Wildcats will be able to leave Hanover Street Park and advance to the Coldwater district.
"First time in three years we've got off our home field in tournament," said Wiss. "We get an opportunity to get back to district and you have to feel good about that."
Wiss had plenty of praise for the young Rangers, which is made up entirely of freshmen and sophomores.
"Knoxville, with their two lefties (Allen and Lawler), being young and throwing strikes and with their off-speed (pitches) are only going to get better as they continue playing the game of baseball," said Wiss. "... In that regard, they're going to continue improving, without question and I know John (Rangers coach John Meinerding) will lead them in the right direction."