Friday, May 18th, 2007
Girl Scout takes rocky road to top honor
New Bremen area teen creating outdoor spot at spiritual center
By Shelley Grieshop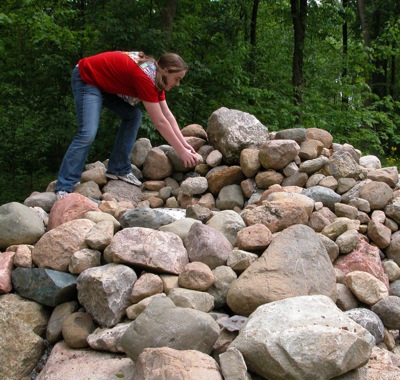 MARIA STEIN - Bethany Bertke is earning the highest Girl Scout honor - one rock at a time.
A junior at New Bremen High School, the energetic young lady is building a grotto on the grounds of the Spiritual Center of Maria Stein to obtain the Girl Scout Gold Award, the most honorable Scout award that girls age 14-18 can earn.
A Scout since second-grade, Bertke of Troop #254 chose the project idea after a visit to the center more than a year ago.
"We decided to come out there as a troop one night to see what they might need. Someone suggested a grotto and I thought, 'That sounds easy,'" she says.
But after battling mosquitoes in the dense woods about 100 yards behind the center and nursing aching muscles from hauling bowling ball-sized rocks, she quickly learned there would be more to the project than she'd thought.
Following the advice of Deacon Greg Barhorst of St. Augustine Catholic Church, Minster, who also is Bertke's adviser, she first visited other area churches and shrines to get a variety of grotto designs.
"Some were much bigger than I had in mind," she said, adding many of the larger ones she saw were built by farmers using heavy equipment.
After getting the green light last year from the Girl Scout council and Spiritual Center board members, she began the physical portion of the project.
With the help of her parents, Tim and Mandy Bertke, other family members and friends, a pickup truck and skid loader, she hauled the various sized rocks down the trail behind the Respect Life Memorial. One by one the rocks from various locations in the area were piled more than 6 foot high and 20 foot wide, surrounding a cement platform in the center for a future statue.
"I'm still building up the back," she says of the rock pile, adding the unfinished project must be completed by her 18th birthday in order to comply with Girl Scout rules.
Bertke, now a Senior Scout, has her eye on a 24-inch bronze statue to grace the grotto. Appropriate for its location it is called "A Quiet Moment" and portrays Jesus embracing Mary and baby Jesus. The statue retails for $5,000 and Bertke hopes that donations will help make the proposed addition a reality. By Scout law, Girl Scouts cannot directly solicit money for their projects.
If extra funds are available, she'd also like to add benches or kneelers for reflection at the serene spot, she says.
Dan Roche, the director at the center, says he's thrilled that Bethany chose the Spiritual Center as the location to earn the top honor.
"We support her project and truly appreciate the young people getting involved at the Spiritual Center," he says.
In 2006, approximately 5,500 girls received the Girl Scout Gold Award after following strict guidelines set by officials of the Girl Scouts of America.