Friday, May 18th, 2007
Fort Recovery and Minster graby early district track leads
By Bruce Monnin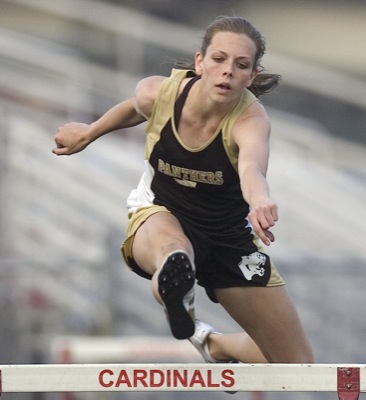 MINSTER - The Fort Recovery girls and the Minster boys both grabbed the early lead at the Division III district track meet at Minster, and both teams did it behind athletes winning each of the throwing events.
Holly Stein earned over half of Fort Recovery's points with impressive victories in both the discus and shot put. Her throw in the discus was her second best of the year.
"I threw 118 feet earlier this season," explained Stein. "We've been working with my form these last couple of weeks. It definitely helped me come out and do well today."
Her shot put was even better, as she achieved a personal season best, a career best and set a new school record.
"I took a good step today in the shot," added Stein.
Minster's Andrew Meyer achieved similar results. He easily outdistanced the field in the discus, but the excitement was in the shot put. The meet record in this event was the oldest record at the district meet, being a throw of 56-23/4 feet by Marion Local's Gary Moeller back in 1982.
With the potential for the record to fall, one of the largest crowds ever to watch a shot put event at Minster gathered.
Included in the loudly cheering crowd was most of the Minster baseball team and Jimmie Pacifico, the current state record holder in the shot put who came up from Vandalia-Butler to offer encouragement.
Meyer gave the crowd what they wanted to see, crushing the old record by over six feet with a throw of 62-5.
Several other area athletes scored event wins as well. Parkway's Marian Bevington won the girls' long jump, and the Panthers' attempt at a double in the event was foiled when Jacob Fox was bested in the boy's long jump by St. Henry's Patrick Reichert.
Not to be outdone by Holly Stein, Matt Vagedes also brought home a win for the Fort Recovery boys with a victory in the pole vault as he cleared 13-0 feet.
Finals were also completed in the 4x800 relays. The New Bremen girls were able to edge Minster by two-tenths of a second for the win with Marion Local coming in third. The boys' race was a carbon copy, with New Bremen again victorious, Minster second and Marion Local again third.
The finals in the rest of the two remaining field events will take place at 11:30 a.m. on Saturday at Minster, followed by the semifinals of the running events at 12:15 p.m. and the running finals at 1:30 p.m.