Tuesday, May 22nd, 2007
Potential neighbors question plans for Mercer County Jail
By Pat Royse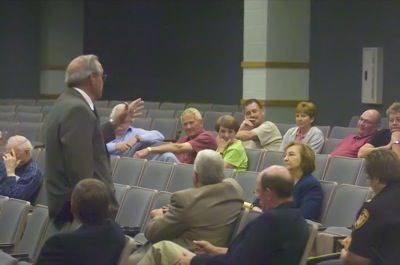 Mercer County Sheriff Jeff Grey and proposed jail architect Rick Axline promised Silver Lake residents that a high berm, trees and landscaping would be put in place to hide their view of a new jail complex that may be built along state Route 29.
A meeting was held at Celina High School on Monday night with a couple dozen neighbors who live close to the proposed 6-acre jail and law enforcement site on the Mercer County Home grounds. Nearby residents expressed fears that property values in the neighborhood would decrease and that the traffic from unsavory folks would increase.
Axline, who has been the architect for more than 140 jails in various states, and occasionally in another country, told the group that values of homes next to jails he has helped build have never gone down.
His answer did not satisfy one resident who said she simply did not believe him.
Another audience member then asked at what percentage home values in those neighborhoods near the jails increased. Axline and Grey promised to get the information to him.
The berm and trees to separate the jail from neighbors was a compromise, offered after a resident conceded the county needed a new jail but "not in my backyard."
Axline, who works at Shremshock Architects of Columbus, told the group he could make the berm attractive, maybe curving it a little so it wouldn't be boring.
The sheriff and the three county commissioners who attended the meeting also were asked if they had explored other sites before settling on part of the county home's 160 acres. Laffin said they had looked least nine possible sites before choosing the county home property, which they already own. He explained the problems with several of the viewed properties.
The proposed $12 million jail and law enforcement complex is planned for land west of the county home's long entrance drive. The drive from state Route 29 would be widened to accommodate a turnoff to the jail's parking area, main entrance (facing at a south east angle) and the back sally port for transporting inmates.
The future of the jail depends on taxpayers approving a 1/2 percent sales tax, likely to be put on this November's election ballot. Grey told the group "the tax will cost 50 cents for every $100 spent."
Mercer County Commissioner Jerry Laffin said the ballot language and other details are being worked out this week but did say it was likely the issue would have a sunset clause in it. He was not sure how many years it would go before it ended, but Laffin guessed somewhere between 11 and 15 years.
Commissioner Bob Nuding spoke to the issue of safety in the immediate area. A resident had said she had small children and was worried about those who might be in jail or coming to the jail. He told her that he raised his kids a couple of blocks from the current jail and never had any problems.
Grey also said the garage sally port that is proposed and other measures should provide more safety from the "bad guys" than at the current location.
The question and answer session followed a long slide presentation by Grey who told the group the jail, which is different than prison, holds mostly people who are waiting for disposition of their cases. Women are never held at the current jail but must be placed in other jails in Ohio, he said. Others get farmed out when the jail is full. The current jail can hold 22 prisoners at best, he said. The new jail would be able to hold 100 inmates.
He said the county has 1,400 outstanding warrants, most on minor charges, that have not been served because there is no room.
He recited the number of criminal cases for the year 2005 in area counties. Shelby had the most with 2,697. Mercer County was second with 2,225 cases. Others were Darke at 1,940, Auglaize at 1,545 and Van Wert at 1,240.
Grey reported that Auglaize County's jail, which was built for 72 prisoners, is full and now holding 88.
The complex being proposed will serve as jail, dispatching center, office, training center and office space for patrolmen to do paperwork. It also will have a kitchen, where food will be prepared by trustee inmates, and a laundry room, also run by inmates, Grey said.