Tuesday, June 12th, 2007
A call for fathers to man the fires
St. Marys State Park plans for Father's Day camp-out
By Shelley Grieshop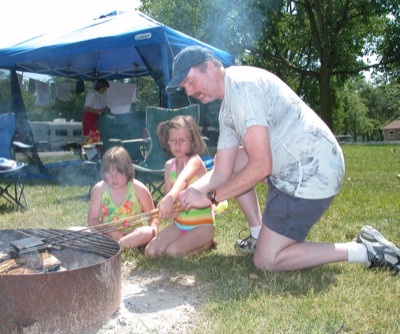 ST. MARYS - State park officials are looking for open campfires, long-handled tongs and a few good men who don't mind smoke in their face.
A first-ever Father's Day camp-out, including an outdoor cooking contest, is planned for Saturday at Grand Lake St. Marys State Park along Edgewater Drive. The activities on tap are designed to give camping fathers a little recognition and to attract visitors, says state park Manager Craig Morton.
"We're trying to pull in attendance," he says.
The outdoor cooking contest for dads was Morton's idea and at press time he was still stewing over the "rules to cook by." But one stipulation was set in stone: no camper ovens, no gas grills or other fancy cooking devices are allowed. Just good ol' campfire cooking over wood or charcoal, he adds.
Dads can prepare a meat entree or dessert of their choosing, starting at 3 p.m. Judging is scheduled for 4:30 p.m. at the Nature Center. A panel of hungry judges will sample the outdoor fare and award two free nights of camping and a plaque to the first-place winner in each category; a plaque will be awarded for second place.
A fishing derby also is slated for Saturday with registration from 8:30-9:30 a.m. There are categories for dads and children under 18. For this event there are no "rigid rules," although carp will not be accepted as legal game fish, Morton says.
"This won't be just a shoreline thing," adding dads and their children can cast their line from a boat on the lake if they'd like, he says.
A count and weigh-in will be held at 2:30 p.m. at the campground boat launch. Prizes including free camping and putt-putt golf certificates will be awarded.
Rules for the cooking and fishing contests are available at the state park office.
The local state park, as of Monday, still had dozens of campsites available for the coming weekend. The park boasts 204 campsites (166 with electric), two cedar cabins and two small and three large camper cabins. Numerous outdoor sports activities are offered on site including a 9-hole putt-putt golf course, horseshoes, sand volleyball and basketball. Also available are swimming beaches, playground areas, trails and all the amenities a camping family would desire.
The park had a full house for Memorial Day weekend but attendance has been spotty since, Morton says.
"Gas prices are probably affecting some people," he says.
He hopes the new Father's Day festivities will help fill the campgrounds. Fishing and water conditions have been good and the weather forecast, so far, looks to be warm and sunny for Saturday.
"I hope folks will come out and try camping this year. It's a great family getaway," he adds.