Tuesday, June 26th, 2007
Celina's Woods tops expectations
By Gary R. Rasberry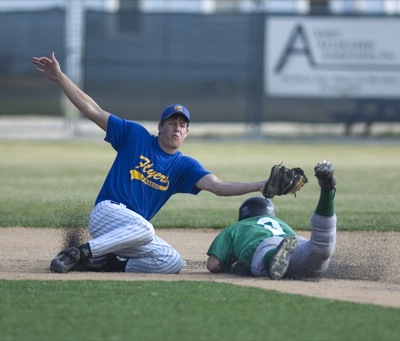 With pitching arms in short supply, Celina ACME coach Ron Fortkamp called on Dustin Woods to pitch on Monday against Marion Local.
Fortkamp admitted that he was hoping Woods, who did not pitch during the spring and had one appearance in the summer, could get at least four innings.
Woods gave a lot more, throwing 61/3 innings of no-hit baseball against the Flyers before giving way to Brent Riemesch as Celina got a 2-1 victory at Montgomery Field.
The Bulldogs improve to 10-11 on the summer, and more importantly, end Mercer County circuit play at 5-5 in hopes of gaining the third seed when sectional play begins at St. Henry this Sunday. The Flyers fall to 1-10 on the summer.
Not a fireballer by any means, Woods allowed six walks in the contest to go with three strikeouts.
"It's makes it awful easy to coach when a kid goes out and throws a no-hitter for almost a (complete) game," said Fortkamp of Woods' effort. "He pitched a really nice ballgame."
The Flyers' starter, Chris Stucke, came up with a solid effort in his own right. In five innings, Stucke scattered three hits while walking five. The Flyers allowed single runs in the first and fifth innings.
"We've had that a lot this season," said Marion coach Mitch Thobe. "It seems like the other teams gets the hits with two outs and we can't.
"Our pitching is great. Our defense is doing great (no errors on the night), we just can't get a way to help out our pitchers."
Woods drove in Celina's first run in the opening stanza, singling in Darrin Waterman, who reached on a walk and moved to third on a walk to Jeremy Kerr and a fielder's choice by John Bonvillian.
The eventual game-winner came in the fifth for Celina. Brian Brockly led off with a walk and Waterman bunted the runner up before Kerr legged-out an infield single to bring up Bonvillian. Celina's three-hole hitter then grounded deep into the gap between the shortstop and third base, where Marcus Moeller made a solid play, but all baserunners were safe, allowing Brockly to score.
Meanwhile, Woods kept chugging along on the mound, keeping Marion hitless through six. In the seventh, Tyler Thobe led off with a walk and Troy Prenger looked at strike three for the first out. However, Alex Subler, who relieved Stucke as Marion Local's pitcher in the sixth, took a 1-2 offering from Woods to right-centerfield for a double. Thobe scampered home to cut the deficit to 2-1.
Fortkamp wasted no time, calling on Riemesch to close things out. The change from the slower Woods to the faster Riemesch showed, as Nate Thobe swung away on three straight pitches before Moeller ended the game with another strikeout for Riemesch to get the save.
"I had Riemesch in reserve and I thought if I could get four innings out of Dustin. ...That's only the second time we've used him this year and he didn't pitch at all in spring," said Fortkamp. "His pitch count was low until the last two innings. He did a tremendous job."
The only multi-hit game came from Celina catcher Chad Schumann, who went 2-for-3.
Celina returns to action tonight, traveling to New Bremen for a game at 6:30 p.m.