Friday, June 29th, 2007
Grand Lake falls by one to Lake Erie in 11 innings
By Gary R. Rasberry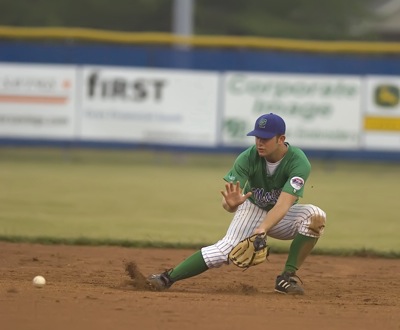 Grand Lake was able to rally back from down 3-0 , but could not post another 11th-inning rally as Lake Erie won, 4-3, in 11 innings at a rainy Jim Hoess Field. The Mariners see a two-game win streak snapped to go to 8-9 as the Monarchs improve to 9-7.
The early part of the game saw the teams combine for more errors (seven) than hits. Grand Lake finished with five hits off four Monarch pitchers while Lake Erie made do with just four hits.
"If we got a couple more hits to push a couple runners around," said Mariners coach Scott French. "I don't know how many we left on (11). It was good baseball and we're not always going to get that hit. I understand that."
The Mariners pitching did all it could to keep the team in the game. Starter Andrew Shisila did walk seven batters through 42/3 innings, but scattered just two hits as the Monarchs built a 3-0 advantage. Brad Piatt came on in the fifth and shut down Lake Erie for the next four innings before running into trouble in the ninth when David Borcherdt led off with a single and moved to third following a walk and a fielder's choice.
French wasted no time in calling on stopper Kyle Heyne, who promptly got Ryan Shay to pop out to second to end the jam.
Meanwhile, the Mariners worked to get back into the game. Dock Doyle drove in Mike Stalowy with a fielder's choice in the sixth to break up the shutout.
In the seventh, the Mariners scored without benefit of a hit as Keith Benbow reached on one error and, after a passed ball, Corey Thrush brought Benbow home by reaching on another error.
Grand Lake finally tied things up in the eighth. Marc Krauss led off with a walk and stole second. After a strikeout to Doyle and a fly by Michael Earley deep enough to send Krauss to third, Monarch reliever Andrew Doyle uncorked a wild pitch to score Krauss tying the game.
After a scoreless 10th, Heyne, who got a win last week in the 11th inning against Licking County, allowed a walk to pinch-hitter Marty Baird to lead off. Rob Merkle bunted the runner up a base before Heyne struck out Borcherdt to bring on Ryan, who singled to right-center to score Baird to break the tie.
That allowed Monarch closer Joe Kohler plenty of cushion in the bottom of the inning, first getting Benbow to ground out, then getting Ryan Chenoweth to fly out before enticing Michael Stalter to ground to short to end the game.
"That was a real good baseball game, considering the conditions," said French. "Both teams pitched well. They got a couple key hits and we didn't. That was really the game."
The Mariners are back in action tonight, hosting the Cincinnati Steam at 7:15 p.m.