Saturday, June 30th, 2007
Union works with company to make new contract
By Janie Southard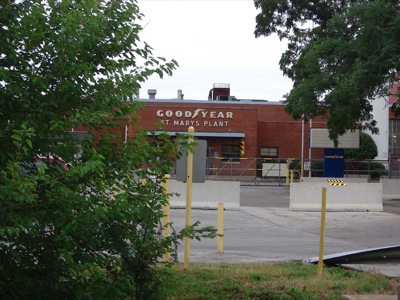 United Steelworkers of America and Carlysle Group are plugging along with talks toward an acceptable master contract that is required to finalize the sale of Goodyear's Engineered Products Division in St. Marys, according to a union spokesman.
"They talked in Pittsburgh this past week and the week before in Akron. I don't sense any major obstacles, but there's still of lot of work to be done," USWA spokesman Wayne Ranick told The Daily Standard on Friday from the union's headquarters in Pittsburgh.
He said no more talks are scheduled until July 9 and couldn't speculate when the sale could be concluded.
Nor could St. Marys Local 200 Vice President Rick Niekamp, who said it doesn't appear it's going to take a "real long time."
"Carlysle and Goodyear are both eager to get this done. But when it comes to pensions and insurance, you just have to hammer it out," he said.
He would not comment about any specifics on the table, but said "yes, we're definitely looking for good things."
When a temporary agreement is reached, the various locals will hold an information meeting with their membership and then will vote on the contract. Passage will require a simple majority.
Three months ago Goodyear Tire & Rubber Co. agreed to sell its Engineered Products business to EPD Inc. for $1.475 billion. EPD Inc. is a created legal entity by Carlysle to operate the 32 Goodyear facilities in the division.
Terms of the sale and recent legalities have made the Goodyear name and trademark available to EPD for the next two decades.
Of the total plants involved in the sale, four United States plants and two Canadian plants are union affiliated, including the St. Marys facility. The remaining locations are in Europe.
The successorship language in the current three-year contract between Goodyear and USWA, which became effective Jan. 2 following a 12-week strike by the union, gives the union veto power over any potential sale where the buyer does not agree to a new contract.
"After being out on strike and so recently accepting concessions, it would seem the new buyer would want to do a deal somewhere close to what we have," Ranick said earlier.
Could the six union plants block the sale of the entire division if no acceptable contract is reached? Yes, Ranick said in a earlier statement to this newspaper.
"Our successorship language has a lot of traction to it and has consistently held up in court. Four of the last 43 instances like this one have gone to court. Our language has held up in all," he said.
This past week the city of St. Marys and Auglaize County commissioners approved the transfer of Goodyear's existing enterprise zone agreement to EPD Inc. This existing 10-year agreement will expire in about a year.
The entire division employs more than 6,500 people and generates sales of more than $1.5 billion.