Saturday, June 30th, 2007
Coldwater undefeated against Mercer County
By Ryan Hines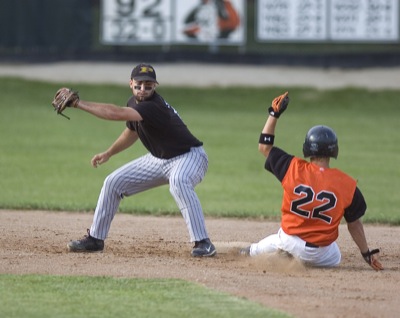 Compiled by Ryan Hines

The Coldwater ACME team completed a perfect run through Mercer County competition during the regular season on Friday evening after beating Parkway 4-0 at Veterans Field.
Jordan Borgerding threw the first four innings to get the win for Coldwater, which improves to 18-5 on the summer. Coldwater begins ACME sectional play on Sunday against the winner of St. Henry/Fort Recovery at approximately 2:15 p.m.
Parkway, now 13-9 on the summer, will also play in tournament action on Sunday, playing the winner of the Celina/Marion Local matchup at approximately 6:45 p.m.

LINESCORE
Parkway 000 000 0 - 0 3 2
Coldwater 101 011 x - 4 6 0
WP: Borgerding.
LP: Art.
2B: (P): Heiser.
Records: Coldwater 18-5, Parkway 13-9.