Monday, July 9th, 2007
Site of serious accident now under study
By Shelley Grieshop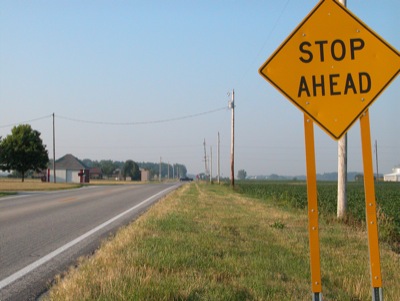 NEW BREMEN - The Ohio Department of Transportation (ODOT) is looking into an Auglaize County intersection where a recent accident occurred causing serious injuries to a Coldwater woman.
Lisa Cowan, 46, 202 Northview Drive, remained in critical condition this morning in the intensive care unit at St. Rita's Medical Center, Lima, following the two-vehicle accident June 30 at the intersection of state Routes 274 and 364.
The second driver, Austin Burkhardt, 17, 2974 state Route 29, Coldwater, was released last week from Miami Valley Hospital, Dayton.
According to the Wapakoneta post of the Ohio State Highway Patrol, Burkhardt was driving a van south on state Route 364 when he failed to stop at the stop sign at state Route 274. Burkhardt's Toyota Previa struck Cowan's eastbound SUV, causing it to veer off the right side of the roadway and slam into a brick garage of a nearby home.
Following a call from The Daily Standard and at least one neighbor questioning the intersection's safety, ODOT announced it was undertaking a traffic study at the site.
"It usually takes about 30 to 60 days to complete," said ODOT spokeswoman Barb Elliston, who represents District 7.
Elliston said traffic co unt and speed calculation would be tallied at the intersection. Also, information from previous accidents will be compiled before investigators decide if any safety measures are warranted.
No one was inside the attached garage of the home of James Jr. and Kay Roeth at 1030 state Route 274, where Cowan's car came to rest. However, the structure sustained heavy damage and the family is awaiting an evaluation to determine if structure damage is involved.
The Roeth family indicated they'd like to see rumble strips placed near the intersection along state Route 364 to help warn motorists of the upcoming stop sign.
Drivers coming from the Grand Lake area in St. Marys on state Route 364, heading south, travel about four miles before reaching the first stop sign at state Route 219. It's more than two miles further south before motorists approach the stop sign at state Route 274.
The Roeths and others believe the long stretches between stop signs along state Route 364 may give motorists a false sense of right of way. They'd like to see more "stop ahead" warnings put in place.
Drivers approaching the intersection from every direction have good visibility. Low-growing crops - soybeans and wheat fields - are planted on three sides and Roeth's home is set back away from the roadway on the southeast portion of the intersection.
Although the Auglaize County Engineer's office does not have jurisdiction over the state-maintained intersection, Engineer Doug Reinhart offered his own opinion and suggestions.
"I like the double stop ahead signs, one on each side of the roadway," he explained.
Reinhart also suggested having the words "stop ahead" burned into the roadway with a type of thermal plastic that he says doesn't fade like paint.
The county department also has worked with ODOT to erect many of the highly-reflective signs now seen along many roads.
"It's a diamond grade, it almost glares at you at night," he added. "It's just so blatantly visible you really can't miss it."
But Reinhart admitted the bright signage would not have helped prevent the recent accident, which took place during daylight hours.
Reinhart said rumble strips aren't a bad idea if you don't live nearby. The sound of a vehicle traveling across them can often be heard two to three miles away.
"With the flat lands we have around here, the people in (New) Bremen would probably hear it from that location," he said. "It takes residents a long time to get used to something like that."