Monday, July 9th, 2007
Second seeds pull surprises in ACME district tourney
Fort Recovery, New Bremen upset top seeds
By Randy Bruns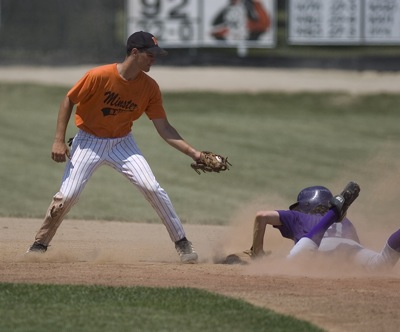 COLDWATER - Sunday wasn't a good day to be a top seed - or to wear black and orange - as a pair of second seeds opened ACME district play with wins in the quadruple-header at Veterans Field.
In the day's second game, the Fort Recovery Indians fell behind early but fought back quickly and polished off the Minster Wildcats with four runs in the sixth inning to notch a 14-4 run-rule victory.
The third game saw the New Bremen Cardinals get a stalwart pitching performance from Anthony Moeder, as the southpaw surrendered just one unearned run in pitching his team to a 3-1 victory over the Coldwater Cavaliers.
Fort Recovery (8-8) and New Bremen (16-6) get a couple days off before resuming play in winner's bracket action on Wednesday. Fort Recovery will face Van Wert (23-3) at 6 p.m., as the Cougars gained a victory over Anna by forfeit on Sunday. New Bremen will take on Fort Loramie (8-13) at 8:15 p.m., as the Redskins advanced after a 10-7 eight-inning win over Crestview in Sunday's nightcap.
Minster (14-7) and Coldwater (21-6) both head to the loser's bracket, but Coldwater gets an automatic win in the opening game due to Anna's disqualification from the tournament. Minster will play Crestview tonight at 7 p.m. in a game that was originally scheduled for an 8:15 p.m. start.
Fort Recovery 14, Minster 4
When your starting pitcher fails to record a single out, it's usually a sign that it's just not your day.
For the Indians, though, it was a just a bump in the road.
Starter Greg Kahlig allowed the first four Minster batters to reach base in the first - three on walks - and was pulled in favor of Bobby Rammel, and the Wildcats tallied three quick runs in the frame.
The Fort Recovery offense was quick to pick up their pitcher, however, as they exploded for five runs in their half of the first thanks in part to a two-RBI double by Derek Koesters.
The Fort struck again in the second, as three straight hits scored a run and chased Minster starter Josh Corbit. His successor didn't fare any better, as the Indians scored four more runs on a double by Alex Gehle and a triple by Travis Hart.
Meanwhile, Minster couldn't get much going against Rammel, as the senior-to-be pitched a full six innings and gave up seven hits but surrendered just one run.
The Indians put a capper on things in the bottom of the sixth, as Rammel drove home two runs with a double and Kahlig later triggered the run rule with a single.
"A lot of their hits were on 0-2 pitches where we made mistakes," said a disappointed Minster coach Mark Wiss. "We got three quick runs in the first and thought we might have them on the ropes. I guess our kids took things a little too lightly, because we gave up the lead in the bottom of the first and then a lot more after that."
Fort Recovery coach Jarret Tobin was excited to see his team continue its hot hitting as of late.
"We hit the ball very well up and down the lineup, and that's how it's been lately," said Tobin. "We're coming along and really playing good team baseball right now. They're believing that they can play right now and it's showing, because we just run-ruled a very good baseball team."
New Bremen 3, Coldwater 1
Power pitchers may get the most headlines, but those that can keep hitters off-balance can be equally effective.
Just ask the Coldwater Cavaliers.
Though he doesn't possess a dominating repertoire of pitches, Anthony Moeder twirled a gem for the Cardinals by keeping the Cavaliers guessing, and his offense did just enough damage early to get him the victory.
New Bremen got things going in the top of the first with a little two-out magic. With runners on second and third, Cory Barlage's seeing-eye single scored Moeder and Derrick Bruggeman followed with a flare to right that plated another run to make the score 2-0.
Coldwater quickly got on the board in its first crack, as Chad Westgerdes singled and came around to score when Keith Wenning's single was misplayed in leftfield. Wenning was nailed trying to advance to second, though, short-circuiting what could have been a further rally.
It was a trend that would continue, as the Cavaliers got two runners on in three of the next six innings but couldn't score them due to Moeder and the defense behind him.
In the second inning, Moeder committed an error to put runners at first and third but bailed himself out when he later dived to snag a bunt attempt and doubled off the runner at first to end the threat.
The Cavaliers had one last chance in the bottom of the seventh when they had runners on first and second with one out. Moeder was up to the challenge, though, as he induced a pair of groundball outs to end the game.
After the game, both coaches pointed to Moeder's mastery as the difference in the game.
"He just had everything working today," said New Bremen coach Gregg McCollum. "When he keeps the other team off-balance, he's a very effective pitcher, and the defense played well behind him. That's what we needed today."
Coldwater coach Romie Schwieterman agreed.
"Some people say that lefthanders are cheaters, but I say they're crafty, because I am one," said Schwieterman with a smile. "He stayed around the plate and he mixed it up well to keep us guessing. He's one of those guys where you go up there and you think you're going to nail one and you come back shaking your head."