Thursday, July 12th, 2007
Disabled graduate takes center stage
Coldwater teen receives high school diploma
By Margie Wuebker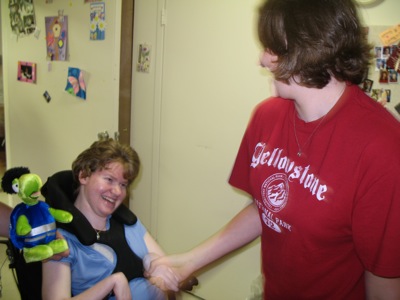 COLDWATER - Katie Homan dances as music fills her room at Briarwood Manor Nursing Center. Seated in a wheel chair, she foregoes fancy footwork in favor of moving her arms to the beat.
Molly Homan, her younger sister and dance partner, does all the work ever so gently.
If Katie has her way, there will be more dancing and laughing Sunday afternoon when her parents Ed and Carolyn Homan host a graduation party at their home. Earning a diploma from Coldwater High School is the latest milestone in the 19-year-old woman's life.
As a participant in the multiple handicapped unit, she advanced at her own pace under the guidance of dedicated teachers like Wendee Bertke. Choir and home economics top the list of Katie's favorite classes while she literally turns up her nose at math and science.
"I think the social aspect of her attending school did more for the other kids in terms of teaching them about disabilities," her father says. "She provided some mighty important lessons without saying a word."
Katie, who has cerebral palsy, apparently suffered a cerebral hemorrhage or stroke in the months before birth resulting in brain damage. She can neither speak nor take food by mouth, relying on her eyes and facial expressions to get messages across and a trusty feeding pump for sustenance.
She initially attended infant stimulation classes at Cheryl Ann School and participated in therapy at St. Peter Neurological Center.
More than 30 dedicated volunteers headed by Judy Rentz took turns coming to the Homan residence four nights a week for patterning. The rigorous exercise program, which continued for years, involved moving Katie's arms, legs and head in hopes of strengthening undamaged parts of her brain.
"Patterning didn't make Katie any better, but it certainly prevented other problems," Ed Homan says as his wife nods in agreement. "Any kind of movement is better than none at all."
There have been many milestones along the way - new school years, birthdays, holidays, high school prom and Challenger softball.
Excitement flashes in the young woman's eyes at the mention of Challenger softball, a program for youths dealing with disabilities. With her two sisters Sarah and Molly serving as buddies, she loved being pushed around the bases the faster the better.
Katie is not unlike other young women her age. She loves clothes, jewelry, bubble baths, makeup, stuffed animals, movies, television, hanging out with friends, looking at cute boys and drinking soda pop.
The Homans admit placing their daughter in a nursing home several years ago was a difficult decision even though the staff has been wonderful. They are grateful the facility located a mile from home has the specialized care unit Katie needs.
"We equated the move to her going away to college and having a dorm room," Carolyn Homan says. "She has friends here like Tim James who light up her day."
Katie goes out frequently thanks to family members as well as a program that encourages community interaction. Accompanied by an aide, she and her friends recently attended the Maria Stein Country Fest and also went bowling.
Despite her limitations, the young woman with a ready smile and an ornery streak has touched thousands of lives in her own quiet way.
The Homans launched New Visions Medical Equipment in 1998 to aid families facing similar plights, and the business has grown steadily. Ed Homan quit his job at Honda of America in 2000 to be involved on a full-time basis.
"Our goal is to keep people moving and provide what was missing before," Carolyn Homan says. "Katie is the inspiration behind our business. That is quite a milestone in itself."