Thursday, July 19th, 2007
Drought impacts county corn; still hope for beans
By Nancy Allen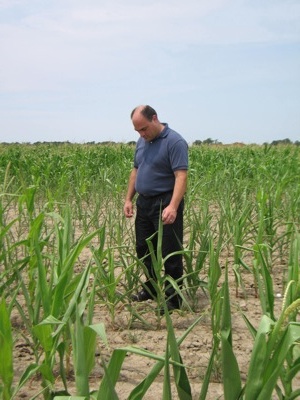 Despite almost an inch of rain that came to the county overnight, it's going to take a lot more than that to pull crops out of drought-like conditions that have gripped the area, local weather and ag officials say.
Corn in Mercer County will no doubt suffer production losses due to the dryness some are likening to the drought of 1988. But there's still hope for soybeans.
Farmer Mark Houts said his corn planted 7 miles northwest of Celina is hurting, especially the earlier planted corn, but it's not as bad as 1988.
"The biggest thing we are concerned with particularly is our earlier planted corn because it came into tassel and went through the pollination period with hardly any rain," Houts said. "If we could pick up some rain it would help out the later planted corn a lot ... we may even be able to salvage half the earlier planted corn."
Moisture is critical at pollination time to ensure good kernel formation and filled out ears.
Houts said his corn this year ranges between chest high to head high, compared to a good year when corn is 8 to 10 feet tall.
In 1988 at this time, corn stands were abysmal, much worse than they are now, and some soybeans hadn't even made it out of the ground, lying dry for months, he recalled.
He attributes the success of corn stands, despite the lack of moisture, to improved genetics that have made corn more drought and insect resistant.
The anticipated yield losses will change his plans to make equipment purchases and upgrade equipment.
"I think everybody will kinda back off this year," he said.
A corn field at the Howick farm on state Route 197, rural Celina, has deep cracks that could swallow up a set of car keys if they accidentally got dropped there. The stalks are uneven, some of them ranging from pineapple height to about 5 to 6 feet at the most.
This field is particularly bad, said Todd Mangen, OSU Extension agent for Mercer County, examining some of the stunted plants with curled leaves on Wednesday afternoon.
On the Chuck Schwieterman farm about a mile southwest of Montezuma, the corn looks better, but it is still stressed by the lack of rain. Schwieterman said his corn stands are even and about 6 feet tall.
"We've been pretty fortunate just right south of the lake. We've been catching a few extra showers in June," he said. "It's fairly even, but under stress ... I can see where it's starting to fire (turn brown) on the bottom leaves."
His soybeans are a little short, but flowering. If good rains come in August, they will still produce well, he said. He figures he will get between 120 and 130 bushels per acre from his corn. He's not guessing on beans yet.
Mangen said the spottiness of the rain the county has received during the last few months makes it difficult to predict how widespread production losses will actually be once crops are harvested this fall.
"A lot of people are already writing off a percentage of yield due to the lack of moisture," Mangen said. "Corn needs the moisture most at pollination and that's right now. The tassels are the start of the pollination process and the silks coming out is what completes it."
And the lack of moisture that has weakened and stunted crops is making plants more susceptible to insect pests, he said.
"We're having corn rootworm problems in the corn and Japanese beetles in the soybeans," Mangen said. "What the dry weather has done is it has not allowed the plant to grow and stay ahead of the insect pests, especially the corn rootworm."
Corn rootworm beetles clip the silk, which is just starting to emerge on many corn plants, Mangen said. Pollen falls from the tassels and lands on the silk on the corn ears. Each piece of silk will become a kernel of corn, if pollination takes place and the plant continues to grow properly.
Weather 2007 is going to be another 1988, ag officials say they just don't know.
Mike Baucher, a program specialist with the Mercer County Farm Service Agency, said in 1988 Mercer County corn made a paltry 10-30 bushels per acre and soybeans made 10-15. The average for corn is between 140 and 150 and for soybeans it's 40-50, Baucher said.
"It could be just as bad as '88, but until fall comes and we can tell exactly what we got," Baucher said, "it's hard to tell what timely rains can do."